These Bostons have found Forever Families in 2004 through BTRWW
Boston Terrier Rescue of Western Washington places all rescue Boston Terriers through Seattle Purebred Dog Rescue. Please see our Adoption page to see how to adopt a Boston Terrier.
---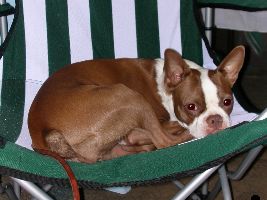 Lawless Lucy
Brought to you by the Wilson family.



Although Lucy is considered a "rescue" we consider her a gift. She was turned over to us to find the best home possible and we did - Ours!

At the age of 6 weeks, Lucy was purchased from a breeder in Idaho by a young couple, one of which had allergies. They had researched dogs with low dander and thought they'd be safest with a Boston. Unfortunately the allergies were more severe than she thought.

They received Lucille, as she was then called, on Christmas Eve 2004, a Friday. By Saturday the young lady had a bad reaction due to her allergies. By Sunday, while searching the Internet for rescue organizations, they found Gerri's name. After discussing the problem and possible solutions they called Gerri on Sunday and we arranged to meet them on Tuesday evening. Gerri immediately fell in love with Lucy and much to Glenn's dismay she wanted to keep her - (Glenn's problem was a feeling that we already had 4 dogs and didn't need another one, especially a puppy.)

Wow - was she ever a handful. We took her to a PetSmart obedience class where she ruled the roost with her antics but did "graduate". She was still wild, continued to wet in her crate and got Glenn up at 2 AM and again at 4:30 AM to go outside and, of course, wanted to play. So we decided that more training was the only way to go if we were ever to function as a family, again. Off we went to the Sumner "Dogs World" for a Fun & Focus class. Now we were getting somewhere! Glenn started enjoying it and the two of them began to form a bond that will, now, never be broken. Things are now improving - she no longer wets the crate and doesn't get him up at 2AM. (She still gets up at 4AM though.) She still had a long way to go so off we went to a second round of Fun & Focus (more $$$$). Those that she met along the way marveled at the beauty of her red (liver colored) coat and her personality. Because of her ability to focus, the confidence she displayed and the bond that she had formed with Glenn, those, supposedly, in the know about agility encouraged us to take her to Agility classes. We agreed and as of this writing she has now been enrolled in her first official agility training class called "Agility Foundation". Even though she won't be ready to run in competition until our New Years - 2007 - event in Elma, we believe you have now been introduced to a future MACH champion Agility Boston Terrier, whose official AKC registered name is "Lawless Lucy". (That latest statement assumes that Glenn can keep up with her.)


---




MAXIE Maxie, a.k.a. Max, was about 8 years old when he came to us. He had lived with only one family since a pup and was the constant companion of the grandfather of the family. When the grandfather passed away, Maxie fell ill with a host of problems.

Maxie's family put him up for adoption through Seattle Purebred Dog Rescue in the hopes that new surroundings would revive him. We picked him up from them on Christmas Eve, 2004. He was a pretty sad sight, rail thin with a skin infection, but he was affectionate and craving attention.

We needed to address his physical condition right away. His health is and has been an issue since puppyhood; his skin is very sensitive and he has some spinal cord damage. A friend terms him a "Hot House Flower" -- not a bad description! Fortunately, he responded well and is now a rambunctious, opinionated, and slightly ornery dog (in other words, a typical Boston Terrier).

Maxie shares our home with a mixed breed terrier named Bear. He and Bear love to play tug-a-war in the evening when we're watching television. His favorite game with us is keep-away, especially first thing in the morning when he runs through the house with a toy in his mouth. It is surprising how fast a crippled little dog can run carrying the ear of a stuffed elephant!


---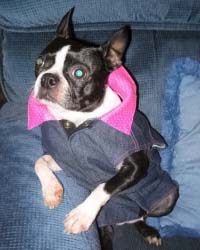 MAMMA was four years old when she came from a puppy mill in southern Washington. She really didn't know how to be a normal dog. Her little face and paws showed the scars from crate life. She guarded everything and inhaled her food. She would eat anything, especially cardboard.

Today, Mamma lives in Burien, WA with a Boston loving family. She even has a Boston sister! You will find her following her new mom's every move, snuggling. . . wanting all the love and rubs she can get, and traveling with her family.


---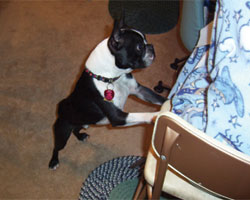 RILEY was given up by his owners because they had two children and expecting a third. They no longer had time for an active 2 ½ year old male. We placed him with a family with two children who gave him back after ten days because he was "to active". We placed him with two retired brothers who love him and give him lots of attention and exercise.