These Bostons have found Forever Families in 2005 through BTRWW
Boston Terrier Rescue of Western Washington places all rescue Boston Terriers through Seattle Purebred Dog Rescue. Please see our Adoption page to see how to adopt a Boston Terrier.
---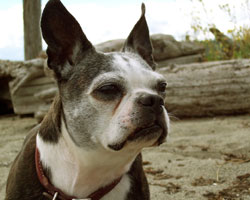 IVEY & ROSIE were abandoned at a truck stop in southern WA. Rosie was 8 or 9 and Ivey was about 6 years old. These two girls were very attached. Rosie was missing a few teeth and could not quite keep her tongue in her mouth. She loves to run, roll in the grass, and romp in the back yard. Ivey looks tough with her white face and notches in her ears - but is tender of heart and dotes on Rosie. The girls were able to stay together and both live in Edmonds, WA with a Boston loving couple.


---


MAX came to us as "Tuffy". Tough he seemed at least at first blush, with every dog he met. With a little guidance, and some clear direction (good obedience training) he turned into a great ambassador for this happy, friendly breed. He is smart and so eager to learn. His best tricks to date are rollover, spin left - spin right, and ring the bell to go out. Our house is a revolving door for dogs whose folks are away on weekend to month long travels and Max is always a welcoming host.

Max is always ready to play whether it is with one of his fellow canine pals, our cat, chicken or the numerous children who come to visit. His enthusiasm is never with malice. In the early morning hours or as the evening is coming to a quiet close, Max is usually found curled up at my side on the couch or on my bed where he waits for me to wake up and give him a belly rub before starting our day. Adopting Max has been such a joy. We have always been a big dog family and he has opened us up to the special nature of these hardy little dogs.

Wayne & Janet Miller
Vashon, WA


---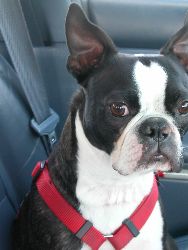 SEBASTIAN came to rescue at one and a half years of age. He came from a family who raised him from a puppy. Sebastian's master was leaving for college and her family was unable to care for him.

Sebastian's favorite things to do are running, taking the stuffing and squeakers out of his toys, playing tug-a-war, and sleeping in the sunshine. Then . . . there's riding in the car, going for walks, and sleeping under the covers.

Sebastian is now three and a half years old. He has graduated from obedience class and has his Canine Good Citizen Certificate.. He is the perfect dog to be in a rescuer's home. He seems to get along with everyone.

We are truly blessed to have Sebastian as apart of our family.

Vicki and Al, Redmond, WA


---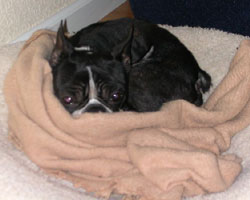 JAKE was lost on the streets of Seattle for weeks. He was rescued by a nice lady the first time and by animal control the second time. BTRWW was then called to help in Jake's placement. Working through Seattle Purebred Dog Rescue, we were lucky enough to find a family who had recently lost their rescued Boston Terrier. The family was hoping to rescue another Boston Terrier. This match was meant to be. Jake is now living with his forever family in Bellingham, WA.
---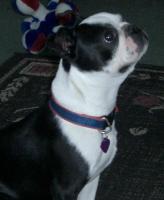 BUSTER has found a loving home in Marysville and now has a Boston sister.