These Bostons have found Forever Families tin 2006 hrough BTRWW
Boston Terrier Rescue of Western Washington places all rescue Boston Terriers through Seattle Purebred Dog Rescue. Please see our Adoption page to see how to adopt a Boston Terrier.
---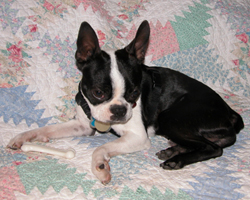 This is Derby! He is a charming 10 month old Boston and he is thriving in his new home. Incredibly, this is Derby's third home in his short life. He was skittish around people initially but is becoming a friendly little boy. His medical issues are now resolved and he has handled the transition into his forever home wonderfully. Derby's new family is looking forward to working on some basic obedience commands that he hasn't had an opportunity to learn yet. Derby adores playing with his new big brother, who also happens to be an SPDR Boston Terrier rescue dog! Derby's new family says that this cuddly little fellow is a keeper!


---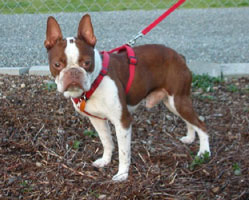 MUGSY is a 25 pound, 1 1/2 year old red Boston Terrier. His guardian Angels were looking over him when a woman was able to talk his owner into releasing him to her instead of putting him to sleep, because he was always sick. She them turned Mugsy over to BTCWW members who surrendered him to BTRWW. As it turned out he had three different infections and an inverted tail. Yes, Mugsy's guardian Angles were watching over him. He recovered from his infections and tail surgery. His forever home is with a wonderful couple in Silverdale, WA.


---

MUGSY 2 was surrendered by a family who could no longer keep him. He is 8 years old and weighs about 16 pounds. He is black and white with a very curly tail. Mugsy is very loving and affectionate. He loves to go for walks, rides in the car, and snuggle with his favorite person. He gets along great with other dogs and cats. He is totally housetrained. He was placed in an adults only home and is very happy.


---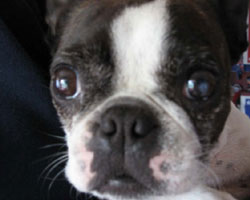 BABY GIRL is approx 9-10 years old and weighs about 10-12 lbs. She came to us in May, 2006, very emaciated, dirty and so very timid and scared. Her home life was deplorable and it was requested by the owner that she be put to sleep. He didnít want her. We were asked to take her and gratefully accepted. Now, Baby Girl lives with us in Anacortes, WA. It is amazing to see what love, stability and normalcy can do. She has overcome her timidness and now can be a normal playful dog. Baby Girl's favorite past times are chewing the edging on her bed, cuddling in her baby blanket, and she loves night, night time with my husband. We are so grateful to be a part of her life.


---

DAISY was a seven month old sweetheart. Her former family loved her very much, but couldn't control her wetting and chewing. We knew it was going to take a very devoted home to help Daisy change her ways. We found just that home!

Daisy came to us through the Boston Terrier Rescue. We wanted another Boston very much (we already have one) but we wanted to help one who didn't have a home or couldn't stay where it was rather than buy one. Daisy had a lot of problems when we got her but with positive reinforcement, love and time... she is cured of most of her problems and we are confident she will be of all of them soon!

We love her very much and she is a member of our family now. Daisy has been involved in 4-H (that didn't work out so well as she has fear of people she doesn't know, once she gets to know you she is your friend for life!)

Daisy is high energy and will play ball for hours. She also likes to play with Molly and their sock! They get all the socks with holes in them to play with! She loves to tear around our house and run circles around Molly who is older and slower but can hold her own. She loves camping, the beach, hiking, bike riding (We put in her a bike stroller with Molly! Too funny!) And she loves walks and her chew toy and ball. She cuddles all the time and loves to give kisses. She is very affectionate and sweet. We Love her!

It has been a great experience. Thank you for doing what you do, without you, we wouldn't have her!

The Bolles Family
---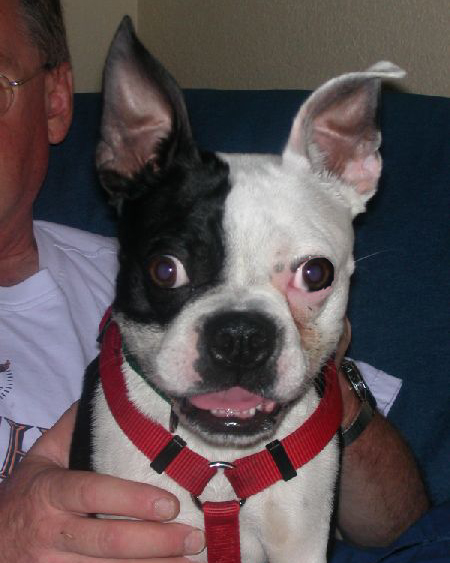 TOBY came into rescue just before his third birthday. He was purchased as a puppy by an elderly woman in Florida. In a short time she became ill and passed. Toby was cared for by her friends and then shipped to family members in WA. He didnít seem to fit in anywhere. He was frightened and growled and snarled at everyone and everything!

Today, Toby is a happy dog! He loves to play tug-o-war, sleep in the sunshine, and take long walks. He also likes riding in the car, doing tricks for his treats, and did I mention . . . playing tug-o-war!

Toby will soon be four years old. In this short time he has graduated from his obedience class, he can be around a group of people and their dogs and be a gentleman, and live in a home with dogs and people coming and going all the time.

Toby is a perfect fit with our family.


---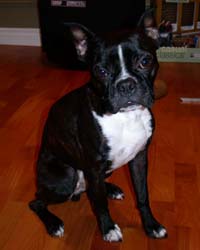 TUCKER was a 22 pound, 1 1/2 year old boy. He was found running the streets of Snohomish county. A very nice woman caught him and held him for a week. She put up posters, ran a newspaper add, and contacted shelters. No one clamed this handsome young man. We were contacted to help place him.

Tucker is now living in the lap of luxury. He lives in Tacoma with a young professional woman. He gets to go to doggie daycare and has a new orange sweater. You might see him jogging through the streets of Tacoma with his new owner.
---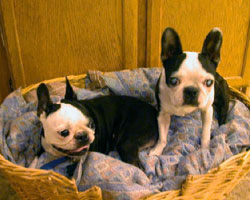 RUEY (left) and CRYSTAL are spayed, 7 year old sisters. These girls are seniors and with age comes not only beauty, but also some health issues. Little blind Crystal is very outgoing and adapted to her home in just minutes. Ruey is the laid back one. Their previous owner had to move from her home and the girls could not go with her.

We have found a loving home in Woodinville, WA. We love to sit cuddled in our new masters lap, we have a large back yard to explore, and a new, older, Boston sister named Katie.


---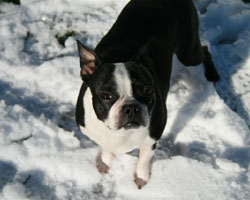 SASHA is a six year old, spayed female. She came to rescue because she did not get along with the other dog in the house. When she arrived her neck was all chewed up, so off the vet she went. She has since settled in with her new family in Federal Way,WA. She gets along fine with her two Boston sisters. She loves kids, likes to go for walks, and her favorite thing to do is EAT. Sasha will go to any extreme to get to anything that is food.