These Bostons have found Forever Families in 2007 through BTRWW
Boston Terrier Rescue of Western Washington places all rescue Boston Terriers through Seattle Purebred Dog Rescue. Please see our Adoption page to see how to adopt a Boston Terrier.
---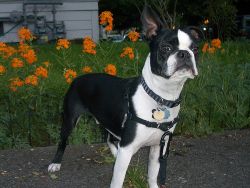 BENEDICT: We adopted Benedict, 3 yrs old, in January of 2007. He has been nothing but a joy in our lives. He quickly took over one of our living room chairs and claimed it as his and spreads out on it everyday while he snores away!! Benedict cannot go a night without sleeping under the bed covers or snuggling up with us on the couches. His favorite daytime activity is to play with his tennis balls. He jumps up and down and chases them everywhere. On his walks he loves to carry the ball with him the whole way. Our life is so great with Benedict in it, and we are thankful for BTRWW for helping to match us up with


---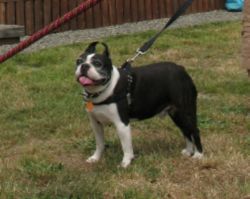 WILLIS is a six year old, neutered male. Willis needed a home where he was the only dog. He is now living in Seattle, WA with a young professional couple.

My husband and I considered adopting a dog for several years before taking the steps to find and adopt Willis through BTRWW. We were a little nervous at first because at his previous home he had been picking fights with his brothers and making bold attempts to escape from his yard.

Now as an only child, Willis is a different dog. In 8 weeks he has become one of us; an important part of the family that we cannot imagine being without. He is a sweet and easygoing guy, who enjoys long walks and sunny days. Willis also loves car rides, romping around with doggie friends, and snuggling on the couch for a movie.

When he is in a particularly good mood, Willis will run wildly in circles around the living room or patio. Sometimes he will get really excited and stand up on his hind legs to do what we refer to as the "Willis dance". I like to think the Willis dance is his way of saying that he's as happy to be in our family as we are to have him.
---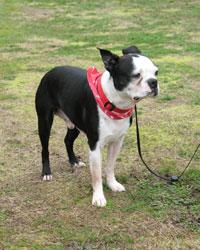 DUKE is a 6 year old, neutered male. He came from a home where he was becoming grumpy and played too rough with the young grandchildren. Duke has found a home with a loving woman and her four older kids in Snohomish, WA.. He is a loving, quiet dog who loves to snuggle. He is learning about being a 4-H dog, loves to go for car rides and be with his family.


---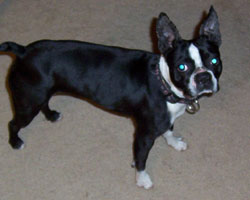 SOPHIE's previous owner's kept her locked in a horse stall (in Eastern Washington) for the last few months of her life with them. She developed a fungus on her ears and nose and they took her to the vet. Even though the rash was not contagious and easily treatable, they told the vet to euthanize her. Instead, the vet called BTRWW and they went to Ellensburg to rescue Sophie. After just a few days, they knew that she was a perfectly healthy dog who got along with other dogs and children. It was my second day of vacation when Glenn Wilson called to see if I still wanted another Boston. I went down the same evening and brought her home. It was really great that I was home for the entire week while she got settled.

She needed training at the most basic level but is a very sociable dog. She is 1-1/2 years old. Sophie is long and muscular and can run fast as lightening. She loves to play with my other Boston, Owen, who loves playing back. They start running in the morning and don't quit until the lights go out. It is so much fun to watch them; like two little clown dogs. Sophie has lots of toys to play with, and loves to chew on bones. It also became obvious that she has an incredible sweet tooth when I discovered that she can sniff out any bag or box of sweets, get it open, and eat what's inside. Luckily for her, none of it was chocolate! I have also found that I have to be careful where I put by mochas since she will also find where I set it down and will knock it over to drink what spills out, which is usually all of it. She even climbed on top of the picnic table to get to the mocha I had set down, and when I went back to take a drink, it was all gone. She is one smart cookie.


---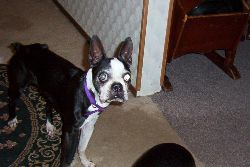 SALLY Three months ago two wonderful people (Glenn & Gerri Wilson) called me to see if they could bring an elderly rescue Boston by to see if I would give her a home and some TLC. Being elderly (74) myself How could I refuse. They arrived with this skinny, wobbly pathetic looking girl that was certainly in need of some lovin'.

She stayed and it has turned out to be one of the best decisions in my life. After lots of love, some good food and time I am happy to say that she is "PERFECT". We play ball, go fetch, tug -of -war and keep -away. She truly rules the roost here and is a perfect "LADY" whose name has been changed to Sally (Silly Sally) because when she is looking for attention she acts silly, grins or smiles and rolls on her back. She thinks everyone who comes to the door is here to see her.

Of course she sleeps on (in) my bed. The only fault I can find with Sally is that she wakes me up with her snoring. All in all I couldn't ask for a better companion than Sally. In fact if in the future there is another "Elderly" that needs a home I would strongly consider it.


---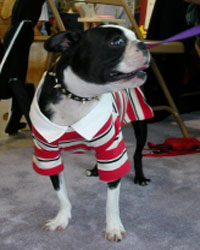 My name is Gizmo and my story began in a puppy mill in April, 2005. One of the more notorious Minnesota puppy mills, in fact. I was soon taken from my family and sent to a pet store in Renton where my first owners found me. My dad adored me, but I was sickly and my mom had a hard time bonding with me. So, they gave me to my second owner, a loving single mom. Unfortunately, she didn't know how to cope with my illness and couldn't keep up with my care. I feel blessed that she contacted BTRWW. On January 7, 2007 I was taken to my new foster home. My foster dad turned out to be a vet, so he whisked me away to his clinic and gave me the best care possible.

That winter and spring were rough. I grew sicker and sicker from my horrendous colitis. It became clear one grim day in May that I very possibly could die. I had just turned two and I was dying. Thanks to the miracle of incredible doctors and tremendously powerful medicines I recovered! During the ordeal, my foster parents and I bonded deeply. I became their boy, not just because I was so sick and not adoptable, but simply because the love is so strong.

I am robust and stable now. I will always suffer from colitis and my condition is guarded at best. I could die from this, but we take one day at a time and enjoy life to the fullest. I am the happiest boy in the world and I know my mom and dad are pretty happy too! I can tell by all the smothering hugs and kisses which I eat up!


---




BUSTER BROWN is a young, male dog. He found his forever home in Federal Way, WA.
---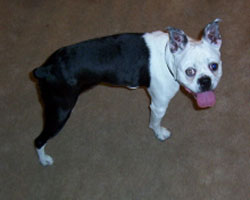 WINSTON \was surrendered to rescue when his elderly owner passed away. The family, from a small eastern Washington town, asked rescue to find him a home. He found his forever home in Renton WA.


---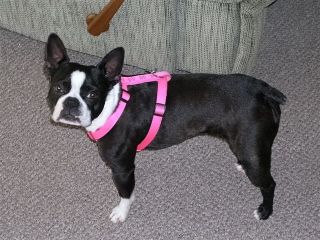 ZOEY was adopted two months ago. She came from a home that had 5 Bostons, two of which were females. There were 9 years between the two females, so when Zoey matured the two females were getting into serious fights over who was the "alpha dog". It impacted Zoey's behavior & the two females had to be kept separated at all times. It was in her best interest to find a new home environment.

We had only one Boston, a male, named Reggie. We decided he would enjoy having a buddy to play with & be a lifetime companion. We heard about Zoey & quickly adopted her as the owners were moving out of state.

In the two months she has been with us, she has made much progress. She was on Prozac when we got her. We are now ready to wean her off of it. We live on 4.5 acres, and our home environment is pretty quiet. I feel that that played a part in helping her to feel she could relax, play, & enjoy life. She is still the "alpha" and it worked out well, as Reggie is very mellow & easy going. He willing to be submissive, which enhances the possibility of the two of them getting along. They play well together and are enjoying a happy home environment. Reggie is thrilled to have a "little girl" to play with.


---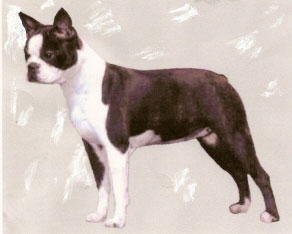 Afta is a retired mommy. This beautiful show Champion was surrendered by a breeder. She was placed in a home with a professional woman and is enjoying walks around Green Lake in Seattle, WA.


---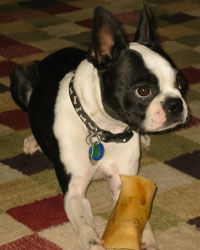 BEAU, formally Bobo, was rescued from the Seattle Animal Shelter in August of this year. We met Beau and instantly fell in love. Beau and Cujo, our other Boston, got along fabulously. We officially adopted Beau on Sunday, August 12, 2007. Beau and Cujo play hard all day long, then slept hard (snuggled up together) all night long. Beau has been a wonderful addition to our family here in Everett, WA. And it couldn't have happened without that phone call from Gerri and the Boston Terrier Rescue.

Beau's favorite thing to do is chase squirrels and the neighborhood cats around our backyard. His second favorite thing to do is to steal whatever toy his big brother, Cujo, has and then play keep-a-way. Beau makes me smile because he is a snuggle bunny and will curl up in my arms like a little baby and fall fast asleep.


---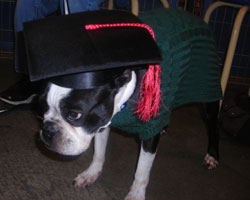 GOMEZ We had only had Gomez about a week when 12 year old Abby, our other Boston, had a heart attack and died. Gomez is not your ordinary Boston terrier. He is stout and strong and of course hard headed.

Gomez graduated from his obedience class after eight weeks. He has adjusted rather well and the class helped him understand basic commands like sit, stay, heel, etc.

Gomez is a "clock" with a dog's body. At 3:30 pm he finds his rope and wants to play. This seems to be an everyday occurrence. Gomez likes to sleep under the covers and usually can be found under a blanket or two. However, his favorite thing right now is "go for ride." He now knows that the coffee shop drive thru has doggie treats and tends to whine if we don't stop for that morning cup.

Gomez is a great dog. I certainly appreciated Geri for finding this dog for the family. Sadly, we lost one family member but gained one within the same week. Thanks so much for all you do. Gomez also says "thank you."


---

JANIE " Dogs are not our whole life, but they make our lives whole". Janie came to live with us on August 24, 2007. I have to admit to being scared and unsure about adopting a dog, let alone an older dog. But the minute I looked into Janie's big eyes, I saw a dog that was full of love and full of life. Janie turned 8 on Nov. 8 of this year. We are her third home and her last home! She is a gentle, loving girl and she melts our hearts every time we see those big eyes look our way!

The first month with Janie was a bit of a struggle as we were both learning about each other. Now that we have settled into a routine, everyone is doing great. Janie loves to show us her toys and snuggle on the couch. The very best part of her day are the walks that we take on our local trail. She is such a strong walker and we chuckle and comment that she would be a great "lead dog" on an Iditerod dog sled team. :)

Janie came to us with a few health issues but we are getting her into tip-top shape. She had 5 teeth pulled upon arriving at our home. She also has cataracts in both eyes. She has almost no vision in one eye. We are waiting to have testing done to see if she is a good candidate for cataract surgery. We are keeping our fingers crossed!!

We love this little girl and she shows us every day that she loves us and that she is happy in her new home with her new Boston Terrier brother and sister. We all know that there are many wonderful days ahead with our new little girl who has a heart as big as her eyes! SHE IS IN HER FOREVER HOME!
I SHE IS IN HER FOREVER HOME!

---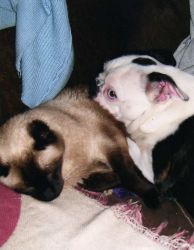 'RENFIELD' Ren was a dog that the Richland Humane Society had picked up and no one had come to claim or adopt him. He had a broken leg and was severely under weight. Glenn & Gerri rescued Ren and picked him up at Whistling Jack's Lodge outside of Naches. They took him to the vet the following day for his shots, a snipping and a cast for his broken leg. Three days later, they brought Ren to our home in Spokane. The Tuesday after the long weekend we took Ren into our own vet who took x-rayed the leg and ended up taking the cast off. Our Vet figures that Ren is somewhere between 3 to 5 years old.

Ren is always a hoot and makes us smile all the time. He's brought us much joy in a very trying time. You see, just a year ago we had four pets (two dogs & two cats). But over the past 8-months, three of our pets have passed away due to old age. My previous Boston was 15, and our cat was 16+. Additionally, our English bulldog passed within a month of adopting Ren. (Our English bulldog was also a rescue from a puppy mill in Newport, WA about 11-years ago).

Ren is one little snuggle bunny and follows us around wherever we go. He lies down on my underwear when I'm going to the bathroom or jumps in the bathtub when my wife is soaking. He is a striking, funny looking Boston. He has very blue eyes with half his head white while the other is black. Also, his eye on the black side of his face has a "Marty Feldman" eye, so when he looks directly at you, the other eye is kind of staring out in the other direction. His broken leg is getting better all the time. That leg will always be a little shorter than his other legs, but he pushes off of it most of the time now. One thing that's really funny that he does is that he keeps head butting our 17-yr old remaining cat into chasing him all around the house.

Ren has been a real joy & blessing and we really want to thank your Boston Terrier Rescue Society for making our life and the lives of many others more fulfilling.


---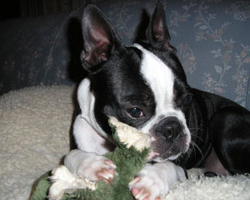 "LUCKY " After losing my last Boston I was most anxious to get another Boston and particularly another rescue. My prayers were answered when Glenn called and said "We have a good one for you this time". He was so right.

What a pup this young fellow is and I feel blessed to be his care giver.

Being young, he is full of pep and vigor but also likes his quiet snuggle time. He acts like he has been here his entire life.

Some of his favorite things to do are to entertain me, go in and out of the doggie door many times a day. He regularly empties his toy box, scattering his toys all over. Some days he takes all of his toys outside and then brings them back the same day.

He gets plenty of exercise by running up and down the fence with the collie pup next door, he makes sure that none of his toys get close to the fence. When the collie is let out he barks and Lucky runs out to run with him.

Lucky is a wonderful pet and companion, he minds well, knows several tricks and is quick to learn new ones. He is a little pushy at night as he wants my side of the bed, but we will settle this soon too.

All-in-all one would be hard pressed to find a more lovable, super, great dog.