These Bostons have found Forever Families in 2008 through BTRWW
Boston Terrier Rescue of Western Washington places all rescue Boston Terriers through Seattle Purebred Dog Rescue. Please see our Adoption page to see how to adopt a Boston Terrier.
---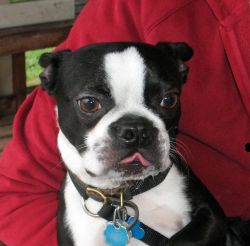 BOSCOE is an 18 month old male Boston. He was surrendered by a family where the husband developed allergies. What a wonderful addition to our family he is. Boscoe is very smart and loves car rides. We have a special rug he sits on in the car, and when I pick that rug up, he knows we're going for a ride.( He REALLY likes that rug. He thinks it is his girlfriend!)

Boscoe loves people, and loves to give all newcomers a little welcome dance and kisses! He sleeps on my bed wrapped in his blanket. I have to check on him at night, because he "cocoons" down inside the blanket and I can barely see him. But he snores, so I know he's fast asleep.

Boscoe wants to be in on any family action at all times. If I'm hugging one of my twins in the recliner, he feels free to leap right up into our laps, and join in the hugging. His doggy smell was very strong at first. But we hardly notice it anymore. :) He has the most unusual amber-colored eyes. He gets down on his haunches with a mischievous grin, when he wants to play. We thank the good Lord for our wonderful new furry buddy, Boscoe.

The Woodbrook Family


---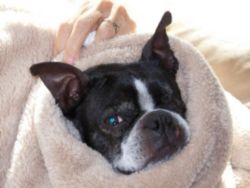 Our Sweet Zoey You joined our family on January 7, 2008. You had been through a lot and we wanted to give you a better life where you would feel loved and protected. I can remember the first day we met. We stopped by Petsmart and you shopped for your first gray sweater with a pink scarf. You seemed to love it. You rode with us while we did errands and then on to your new home. You were probably wondering what was going to happen next.

You always wanted to be near us, watching us closely if we got up to do something or leave the room. You were our little shadow. This was probably a result of your past life. You loved to bask in the sunshine and warmth of the fireplace. You loved wearing sweaters and cute T-shirts and we loved buying them for you. It's so hard to look at them now folded on the shelf.

We called you "Hamburger Face", "Zoetta", "Zomo" and lovingly "Hey You". God had painted your face perfectly. You were our beautiful girl and still are.

You had such a sweet trusting nature, always friendly to everyone you met. You even loved to sleep with the cats, probably cause they were warm and soft. You tilted your head with excitement when you greeted us.

You could run like the wind and loved to chase the ball.

We had never had a Boston Terrier in our family and didn't know that they could snore. This is something you did well. You loved to sleep in under the covers and you always made me feel so relaxed when I watched you. You felt secure and warm in your Dad's arms. How you could sleep totally relaxed!

We were proud of you when you received your beautiful ribbon and walked in the Boston Terrier Club Rescue Parade in Redmond, WA.

So, on December 20, 2011 we had to let you go. It broke our hearts. We feel so blessed to have had you in our family and to have shared the joy of loving you. We only hope we gave you what you deserved. We miss your presence but know that you are all around us in everything we see and do. We wish we could have been with you your whole life but the time we had with you was very special.

If it weren't for the wonderful hardworking people with Boston Terrier Rescue of Western Washington and SPDR we might never have met you. Thank you.

We love you Zoey.

The Blain Family

---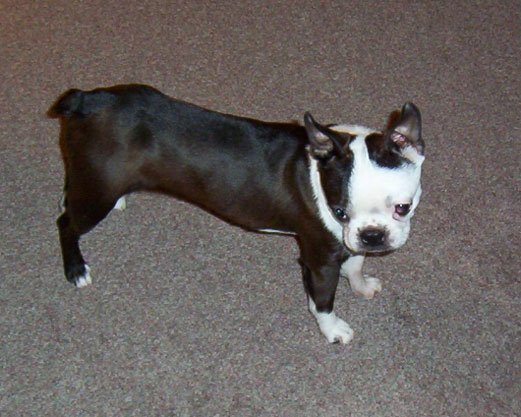 L.G. ("Little Guy") was a year old when he came to us from a breeder because he didn't sell. We believe L.G. had never or rarely been out of his kennel. We drew this conclusion by some of his actions. He didn't know how to jump, he had never been up or down stairs, he eats his own poop, he's extremely needy - wanting attention constantly and he didn't know how to play.

We've now had him for 90 days and it looks like he's settled into our home. He now plays with our Boston, Lucy, teases our Toy Fox Terrier, jumps on my chair and loves to cuddle. In addition we're feeding him "deter" to stop the bad eating habits. He isn't yet housebroken but at least he has stopped marking everything in sight. He sleeps in his crate at night and when we go out and he's going to obedience school. He's very laid back, and like most Bostons he is very smart, but also very stubborn.


---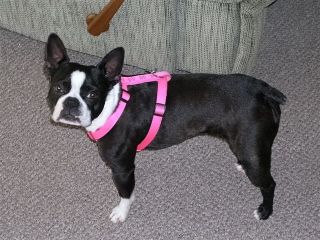 Zoey came into our family last spring. It was a few months after our first Boston Terrier, Mugsy, passed away suddenly. We were so heart broken and lonesome, our neighbor suggested we get another dog. At first, we were a little unsure if we could handle it but she was so right in prompting us. Once again, our home has some life and excitement in it since we got Zoey.

Zoey is two and a half and loves to play fetch and chew up her toys. She stays very busy during the day checking on all the other animals in the neigborhood, squirrels, cats and dogs. She'll run in circles around the house from window to window barking at anything on the street. She is an excellent little watch dog.

She'll never replace our love for Mugsy but we will continue to love and nourish her just as much. She is a very sweet little girl with a personality all her own. She's there at the door every afternoon to greet me when I get home from work and she's always happy to see me. What a great feeling.

A special thanks to Geri and the Ross family for letting us adopt Zoey.

Linda & Richard

---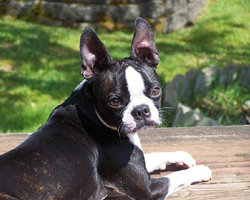 ROCKY is a three year old male. He was surrendered by a family getting a divorce and they could not keep him. We were still mourning the passing of Popeye, our male Boston, when Rocky was placed into our family in April, 2008.

Rocky's favorite thing's to do are play with Maggie Mae, our female Boston, and chase squirrels. Rocky thinks he is a Rottwieler in a Boston Terrier body. We love him very much.

Thank you very much !
Michael & Wendy McCurley


---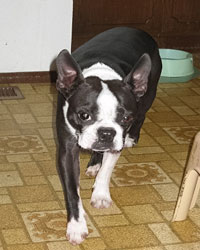 BAXTER is a 5 year old. He lived in several homes before he came to live with a wonderful woman in much. He was never abused--but his training had been neglected. He was too hyper active and too strong- willed to live in a home where the family really didn't have time for him. On the other hand, he is a snuggly, loving, playful and very enthusiastic guy who at five, still has a lot of puppy in him.

As several months of trying to live together elapsed, I gradually came to be aware that he really is a good boy in the house. When we try to function outside it was, and still remains to some extent, a different matter. Baxter is quite the puller. We are gradually doing better after two classes and with the aid of a training collar that has plastic prongs. Much of the difficulty must be his awareness that the pack leader (me) is insecure during walks. Baxter is not incapable of learning. He is really, really good with the "stay" command. We use it often with success and pride.

Baxter is quite the character. He is a burrower. He has comforters of his very own in three different locations of the house and thinks his proper place is under one of them. This involves a prolonged process of digging and twisting and winding himself into just the right position. He's not the smartest Boston Terrier I've had. He sat on the spare room bed one sunny morning last week to watch me work out on my exercise machine. He was distracted by the shadow of the dog on the wall and barked and barked at it. Of course, the more he barked, the more active the dog on the wall became. I finally got to laughing so hard that I had to suspend the "cross-country skiing".

Probably the greatest joy for him in moving from one home to another is the freedom of the enormous fenced back yard. He can hardly wait for warm weather to return when the patio door will be left open all day. We are having a good time together.


---





DUKE came to us from a family in Bellingham. He was less than a year old and had to be placed because they had kids and other dogs and didn't have time for him. We met the owner in Marysville. Duke's owner felt so bad about having to give him up that he made a $100.00 donation to SPDR to help cover the expenses. They also sent along all toys, food, crate, and a letter explaining what training Duke had (he rings a bell on the door when he wants to go out).

Duke couldn't possibly be loved anymore. He has fit right into our family and is very spoiled. He sleeps either with one of the kids or in his bed next to ours every night. If he's in our room, he ends up under the covers and at the bottom of our bed by 4:30 every morning. He's the only dog I know that I have to carry downstairs to go for a walk every morning. I think he could literally sleep all day if we'd let him. But once we're outside, he's happy to go on our walk. He goes everywhere with us in the car and on our long road trips has enjoyed being in his bed in the seat between the kids, as you can see in the attached pictures.

He's only chewed a couple of my daughter's little dollies that she's left lying around (and there are plenty of them). Other than that, he has his Kong, Nylabones, and other things he loves to chew on.

The kids couldn't have asked for a better playmate. He is constantly chasing them around the house - up and down the stairs. We're excited to take him on his first camping trip with us this weekend. I'm sure as long as there's a sleeping bag to crawl in, he'll enjoy it. :)

Thank you for doing such a wonderful job with him before we got him. He's very well behaved, which has made the transition even easier. We're so happy to have him. He'll have a great life with our family.

The Barker Family


---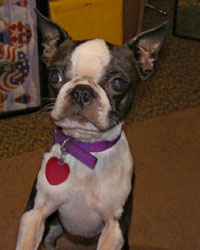 We received a call from a neighbor of Chester's who said Chester was being abused and asked if there was anything we could do. Gerri got the number of Chester's owners. Gerri had to be careful how she approached these people so after some generic questions involving would they be interested in placing Chester – the owners response was "I don't know why you'd want him – he's worthless, pees in the house, doesn't mind and fights all the time." Gerri told her we knew of a person in her area that would pick up the dog and bring him to us – which is what she did and we picked up Chester the next day. In the approximately 10 years that we've been rescuing Bostons none have been abused as much as this 9 lb little guy. We can tell that his ears have been chewed on and he's missing a small chunk from one ear, he had scabs on both sides of his little body (it appears he was used as a chew toy for a couple of good sized dogs, (which we understand also lived in the house) and old scars on both his head and his body. In addition he's missing some of his front teeth.

Chester was fearful at first but we introduced him slowly to our other little dogs. The first day Chester marked just about everything in our house and he even pooped once (we followed along and cleaned up after him). Since then he has not made one mess, has learned to go into his crate to sleep at night and loves to cuddle.

We are the 4th home Chester has had in his short 5 years of life and after having him for a week, or so, we just couldn't place him with someone else and let him go through the trauma of another change – so he now joins his new sisters and brother Lucy, Dottie and L.G.


---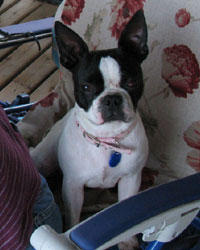 My little Lucy is my dog. She came to me two years ago in June. At that time she was one year old. She had lived her first year in an over crowded kennel and in a home with many children under the age of six. My tendency is to take a dog into my arms and hold them, hug them and share kisses. Lucy jumped right out of my hands and let me know she would meet me instead on her terms. With her very special foster mom's (Vicki) direction, I sat and let her come to me. Treats helped. I sat in one place on the couch, quietly. She sat behind Vicki's back and sniffed me. She jumped down and did it all over again and again. Since that time, she has given her heart to me; she is loved and knows it. A paragraph is to little a place to share my memories of our time together so far but I wanted to declare our forever bond. I thank God for her everyday. And thank you to BTRWW.


---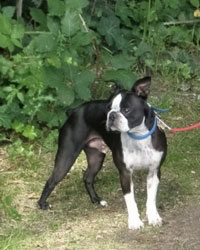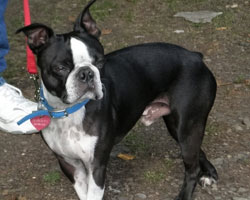 SEBASTIAN'S previous owner had passed away and he was living with family, but he didn't fit in. Being just three, he was full of energy and played too hard.

I had lost my Boston a few months earlier. Thanks to Glenn and Gerri Wilson and Boston Terrier Rescue for bringing Sebastian into my life.

Sebastian now lives in Puyallup. He spends almost every minute with me. He loves going in the car and we go everywhere together. A close friend, who is very ill, has also become very attached to Sebastian and finds great comfort in his company.

Besides all of the normal fun Boston Terrier things to do, Sebastian's favorite play toy is the mirror. He loves to play with himself in the full length mirror. He'll run around the corner, bark, run away, run back to the mirror, bark, etc.

He's a perfect fit!

Mike Bauden

---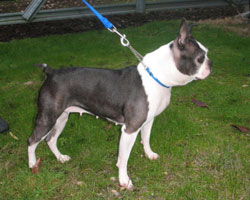 Maggie is a five year old spayed female. She used to live with a ninety-one year old woman and her daughter. She was very active and under foot. They were afraid that Maggie might cause the woman to fall. That is when S.P.D.R. offered her to our family.

Maggie is a very loyal and loving dog. She adores our 12 year old son and he her. She loves attention and wants to snuggle on your lap and sleep with you under the covers. Maggie snores ant snorts like a little pig, but we don't mind. She makes us laugh. She plays tug-a-war and to chews the stuffing out of her toys. She loves to go for walks, but most of all she loves chasing the cat!

We have several loving nicknames for Maggie---Magnadoodle, Mags, and Magpie. She has brought us a lot of joy in the few months that she has been with us.


---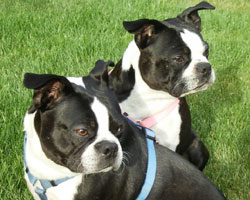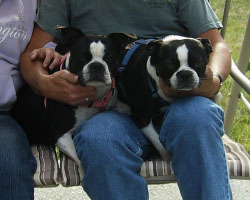 JACK and DANI started their lives out with a great family who had two older dogs. A couple older cousin dogs joined the family, and things got to be a challenge. Jack and Dani's energy was a bit much for the older dogs. Their owners made the very difficult and heartfelt decision to contact SPDR to find a new forever family for them. About this time, another family was grieving the loss of their boxer to heart disease. The family contacted SPDR to see about available Boston Terriers to rescue. The coordinator put the two families together and the rest is history.

After a 3 hour trip from Whidbey Island to Vashon Island, the prospective new owners got to meet Jack, Dani, and their people. It was meant to be that afternoon. An immediate peace was with everyone that this was a decision that would make several dogs lives better. Two weeks later, the families met at a park and said goodbye, took pictures and shed a few tears. The older dogs are now doing much better, and Jack and Dani are enjoying their new backyard, and adapting to their new home.

---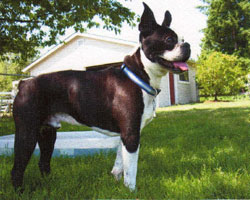 GOMER was surrendered by a family that could no longer care for him. This handsome, 6 year old, male was placed with a woman and her son in Federal Way, WA. She had grown up with Bostons and was ready for another.

Gomer has a border collie sister named Calli. There have been sightings of the two of them playing together.


---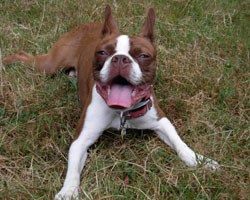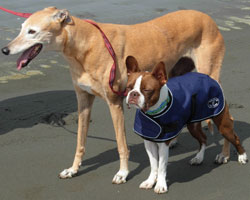 RUDY - Several months ago, we decided that we were ready to start looking for a rescue Boston Terrier to add to our furry family of a greyhound and two cats. We searched unsuccessfully for a few months and finally decided to take a break from looking – and that's when Rudy found us.

Rudy was so attentive, sweet and playful and had this knowing (i.e. mischievous) look in his eyes. Before we knew it, we were smitten, and Rudy was coming home with us. He took to his new environment quite well, including Gypsy, our greyhound, and Queegueg, our cat. Quigley, our other cat, is still enjoying making a dramatic scene when Rudy gets too close, but we're pretty sure Quigley will soon decide, like we all have, that befriending Rudy is a lot more fun.

Rudy is enjoying the perks of joining Bridget on parts of her workday as a professional dog walker – he gets to play and socialize with other dogs, and gets good and worn out by the end of the day. When Loralei gets home, she and Rudy have special time to walk or do training, and then it's dinner time and cuddling for the evening. Rudy relaxes and chills out as easily as he gets excited for play time, and there really is nothing cuter than this sweet little guy curled up next to you. He has made our lives more exciting, interesting, fun and rewarding and we're looking forward to many happy years to come.


---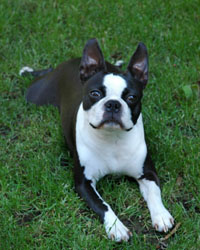 ZOE - We are Boston Terrier lovers and looked for one to adopt since the passing of our last Boston Terrier. We hit the jackpot when we found Zoe. Zoe is 6 years old and comes from a line of champions. She looks very much like a champion – her poise, her markings, her beautiful skin and face, her excellent health, and her proper disposition. She is truly remarkable.

Her first family was just interested in breeding her. Her output was not sufficient for her first owners; so they weren't interested in her anymore. Zoe was up for adoption from her second owner because she had a habit of eating her companion dogs' feces. Her previous owner tried everything in order to remedy the situation; but to no avail.

We are Zoe's third family. We intend to be Zoe's permanent forever family. She has not exhibited any behavioral problems whatsoever since she's been with us. She gets along perfectly with our geriatric Pomeranian, Fini (16 plus years old). In fact, Fini has come to life since Zoe joined us. It's great. Zoe's favorite activity is eating. So we have to make sure she gets plenty of exercise and watch her diet in order to counterbalance her appetite.

Our two most favorite activities with Zoe are snuggling when it's bedtime and getting her revved up in the yard when she gets excited and jumps and runs full speed around the yard. While Zoe's awake, she is always anticipating, so she's a bit tense. But when we settle down for bed at night all that tenseness evaporates. She loves to snuggle under the covers and welcomes all the affection we lavish on her.


---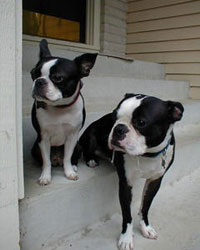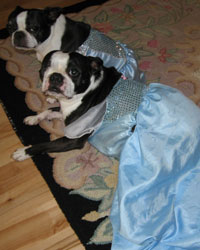 Toby and Kali are unbelievably sweet dogs. We are blessed to have them. We wished for an adult Boston and got two! They are 8 years old. Their previous humans had to move and sadly had to give them up. Although not litter mates, Toby and Kalli had been raised together and they needed a home that could take both of them. We were happy to do it, especially after meeting them and finding out how charming and polite and loving they were.

Toby is a cuddler and very relaxed, yet curious about everything and very energetic. He loves to play catch the ball with Kalli even though every time he retrieves it first she nips him on the leg! He is a good sport, knows a lot of tricks, and doesn't mind being dressed up as a princess by our 6 year old. What a guy. He is so special.

Kalli is our queen. She also loves the attention of being dressed up and loved by our daughter. She likes to go on walks and can play a mean game of tug of war! She's one tough 16 pound package of Boston, she can tire out both of your arms before she gives up tugging. She also knows a lot of tricks and can be driven wild by the temptation of a treat.

We are so happy to have Toby and Kalli in our lives. They bring us joy, and each day we strive to do the same for them.

The Morts Family


---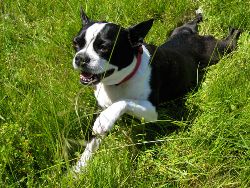 LAYLA - Five year old Layla and her brother were surrendered to rescue because their family could no longer take care of them. Layla now lives with a loving woman in Tacoma. It didn't take her long to train her new owner to allow her to sleep under the covers and to take her for lots of walks. These are her two favorite things. One of the comical things that Layla does is when she goes potty, she stands on her front legs, like a hand stand, and potties. It is a sight to see!

6-21-11 Layla's still doing great, still does hand-stands when she piddles, loves to gut her soft chew toys and chew up the occasion zipper when I leave a jacket in reach. She loves her walks and licking little kids faces - especially when they've just eaten spaghetti!

---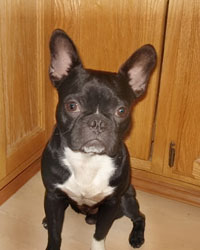 BUSTER came to us through the Seattle Purebred Dog Rescue. My partner Bryan and I wanted to adopt a dog and after much research and looking we decided on a rescue dog –in particular a Boston Terrier Rescue. We completed an application and waited.

Fortunately for us, we did not have to wait long. In late August we received a call from about Buster, a 10 ½ month old Boston mix who was found wandering the streets of Tacoma. Both Bryan and I were instantly taken by Buster and after a quick home visit to ensure that Buster and our cat would be compatible Buster moved in with us.

Buster is now about 1 year old and is a happy, healthy and a playful pup. He is happiest when he is with us – on walks, running errands, visiting family and friends, at the dog park; wherever we are Buster wants to be there. When home he loves to crawl up into our lap and fall asleep. We've even caught him and the cat curled up against each other napping.

Bryan and I consider ourselves very fortunate to have been given the chance to adopt Buster. He brings both us (and at times even our cat) a lot of happiness.


---




HENRY came to us rather unexpectedly. We signed up several months earlier with the Seattle Purebred Dog Rescue thinking we were going to be ready sometime down the road for another Boston. Our first Boston, Beans, was in need of a playmate. My husband and I were on vacation in August, definitely not thinking about getting another dog, and while we were sitting in the Chicago airport awaiting our flight home, we checked our voicemail and had messages that there were two Boston Terriers available for adoption. One dog was a sweet older girl and the other a year and a half old male. So we talked about it on the flight home and then a few days later we met Henry. We took him home that night and he and Beans have been fast friends ever since.

We're not too sure what Henry's real story is. We heard that he had been passed off from one owner to another and eventually made his way to a very nice couple who were fostering him when we came along. We think he's right around 2 years old. He's very mellow for a Boston, but still loves to play. Our other Boston, Beans, is very high energy and Henry tries to run after him and catch the toy he's playing with. But Henry's legs are shorter than Beans' so he can never catch him. He just runs and grunts and snorts after Beans. It's pretty funny. I think his favorite thing to do is to go for a walk, followed closely by sitting on the top of the couch looking out the window, followed very closely by licking your face - anyone's face. He's a "ferocious" licker. He's also the world's greatest snuggler...well, next to Beans of course.

We couldn't be happier with him and hope that he's finally feeling settled and safe in his new home.


---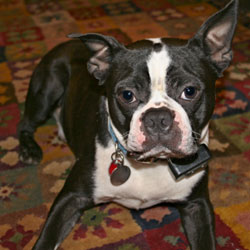 MILO - We had lost our last Boston (Annie) right before Christmas of last year and were longing for another Boston Terrier.

Our 1-1/2 year old male German Short-haired Pointer had been quite mischievous when we were at work....digging up our sprinkler system and chewing on miscellaneous trees and other items around the outside of the house. So I sent our application to the Boston Terrier Rescue of Western Washington hoping to find a friend for Marley.

I got a call telling me that there was a male Boston Terrier coming up for adoption within an hour at our local Thurston County Animal Services.

I called my husband and had him go to Animal Services to meet the Boston Terrier. My husband thought he was a perfect match for our family. We put him on hold until I got off work and picked up my 6-year old daughter. We fell in love with him and adopted him that day.

We named him Milo but he wasn't neutered when we adopted him. He came into Animal Services as a stray and thanks to the Boston Terrier Rescue of Western Washington, we learned about his availability for adoption before anyone else. Our veterinarian says he's only a year old - he still has the pink around his muzzle. He's a whopping 27 pounds and needs to lose a little weight. We are still working on some potty-training issues with Milo, but overall he is a wonderful little dog.

When we brought him home, our other dog Marley thought it was Christmas in October! He was so excited to have a playmate. They romp and play constantly and have become such good house-mates that they sleep in the same bed together - no matter how tight the squeeze.

Thank you very much for helping us find Milo!


---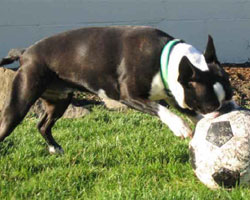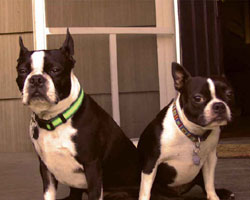 RILEY - I was blessed the day I picked up Riley. Previous to adopting my lifelong buddy, I had not considered having a Boston Terrier as a dog. Then my best friend was unfortunately diagnosed with a serious illness approximately two years ago; she had a small Boston Terrier by the name of Alice. I had the pleasures of spending many days with Alice while taking care of her during long hospital stays. It was the mere joy Alice brought into my life that I knew this special breed was the perfect fit for me as a companion.

Riley is a 3 ½ young frisky guy who snuggles in my lap, keeps me company in bed, and has become everyone's new best friend in the neighborhood. In fact he remembers the locations of where his other canine buddies live before we approach their fence lines during our daily walks; snorting pure happiness during dog to dog contact. And of course Riley's true love is his new friend Alice who comes to play during daytime visits. Thank you to the unwavering dedication of Vicki and all those who volunteer for SPDR. You make the difference one day at a time.


---
---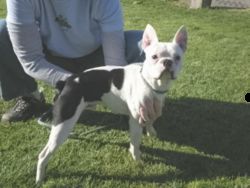 The Kameron / Mr. Magoo Story



My husband and I lost our precious Honey Dog golden retriever on New Year's Eve 2007 and thought we would never recover. A year passed and we realized we had healed enough to try and fill the void left in her passing, so we applied to Seattle Purebred Dog Rescue in hopes of finding a Boston Terrier to adopt.

It was just a week after sending in our application that we got a call from Vicki Brunell. I am a veterinary technician and she had a very special needs dog available that she knew needed me. Arrangements were made and on November 22nd we met our new little boy, Kameron. The minute we laid eyes on him, we were goners. He grabbed our hearts and held on tight. We didn't care that his vision was impared or that he couldn't walk very good or that he needed diapers. We loved him instantly.

We had the fortunate ability to be with him 24/7 for the next 11 days. I only work 3 days a week and with the Thanksgiving holiday it was possible for us to devote our attentions to him 100%. We set off to load up on two little beds, one for upstairs and one for down, a crate, extra diapers and sweaters, baby gates and even some toys. We also changed his name to Mr. Magoo. It fit him perfectly.

We spent a great deal of our days just holding him, since that is where he seemed to be most content, even though he would shake and chatter his teeth and take forever to "settle" in our laps. He struggled with everything. He didn't interact or connect with anything. The toys were ignored. We were ignored. Our other dog was ignored. Walking was quite the thing to see. Sometimes he would trot about, but then suddenly short circuit and topple over, or even do a complete back-flip. We were told he was entirely blind, but time revealed that he did have some sight. He didn't actually run into things like we expected. Our 4 year old golden retriever, Katie, had nothing to do with him. It was as if she sensed he wasn't "right". He fell into his food dish while ravenously eating whatever was put in front of him. It looked so "out of control" and rather pathetic. Whenever he was free to do whatever he liked, he would "run laps" continually, never being able to settle down or even sit down on his own. House training just wasn't possible. He didn't have the ability to register anything. Even touching him, at times, seemed to upset him more than comfort him. He couldn't fall asleep by himself. He had to be held and rocked. I truly believe he fell asleep from shear exhaustion in just coping with existing in his defective little world.

We devoted every moment to caring for him the 11 days he was in our lives. The last 6 days were at our cabin over Thanksgiving. A houseful of people doting on him, yet he seemed to be worsening. There were fewer and fewer quiet times and more and more agitated times. He started having seizures around the 8th day, episodes of total lack of control, his head thrown back and mouth chomping at the air. The final few days at the cabin he became aggressive, biting at the chair leg if he bumped into it, biting at Katie if she was in his way and growling at us when he was picked up.

We were so devoted to him, yet knew we just couldn't provide any type of quality of life for him. I was devastated. As a veterinary technician with three veterinarian's at my disposal, I was sure we could help him. He was examined by them all. I consulted constantly with them, asking a zillion questions and begging for prognosis. It was unanimous, especially after his cabin behavior, the kindest thing would be to let him go and put him to sleep. We were heartbroken. On the way down from our cabin, we stopped at the veterinary hospital and I held him to my heart while he was finally given peace. We only had him for 11 days, but if felt like it was so much longer than that. He taught us many things during that time. How to love unconditionally, how to devote ourselves to helping the weak, how to accept the things we could not change and how to say good-bye. He has a part of my heart and always will. We loved him more in that short time than if we had the chance to love him a lifetime. We cared. Magoo, you were such a sweet little life that we got to share. Thank you for giving us so much.

---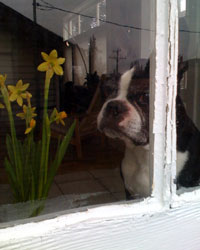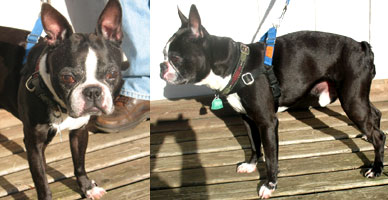 Tige is an 11 ½ year old. He had lost both of his elderly owners and was living with a daughter's family. with. Tige now lives in Seattle with a young professional.

Tige came to us on Thanksgiving Day of last year which seems pretty relevant. We were thankful to have a Boston and I think he was thankful to have a big yard to play in! One of the funniest things Tige does is howl at certain songs or commercials on TV. He especially likes Al Green. Now that the weather has been nicer, Tige's favorite thing to do is just lay out on the pavement in the backyard. Well, that and chase his big sister, a lab mix, when she has the ball. He's a great little guy. We've nicknamed him Lil Nugget.


---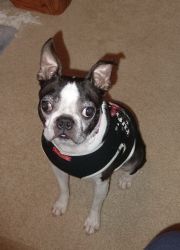 MAGGIE is a wonderful dog full of energy, likes going on walks, tug of war and will go in her kennel when told to. Maggie is very loving, sits on my lap and follows me everywhere I go, including the bathroom. When Maggie comes in she turns her back away from me until I finish. I think she may have gone to charm school.

Maggie no longer has accidents; she now goes to the door when she wants to go out. I am trying to teach her to ring the bells that I have on the door. One thing I learned about Maggie, is I think she has been hanging out with the boys to long, when she goes out she lifts her leg to pee.

Maggie is very funny. A few days ago I put Maggie in her kennel for the night. About twenty minutes later I heard Maggie barking and trying to get out of her kennel. I opened the door for her and Miss Maggie goes over to her water dish takes a drink and returns to her kennel for the night.

Maggie likes going out in the rain and snow which has been a plus.

Thank you for my Miss Maggie.