These Bostons have found Forever Families in 2009 through BTRWW
Boston Terrier Rescue of Western Washington places all rescue Boston Terriers through Seattle Purebred Dog Rescue. Please see our Adoption page to see how to adopt a Boston Terrier.
---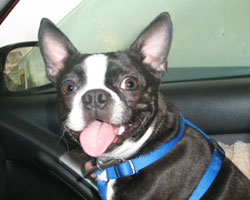 Raider was a three year old neutered male who was surrendered to find his fourth home. His last owner was moving out of state and couldn't take him. We found him to be well behaved, playful, affectionate, and smart.

Raider moved to Whidbey Island to live with and couple that has just lost their Boston a month earlier. As soon as he arrived he seemed to know that this was home. He started chewing on the toys, jumped up into the chair, got a drink of water, and plopped in front of a sun warmed sliding door for a nap. Yes, he was home.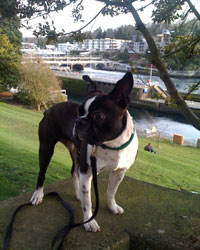 Reggie is a 2 year old male who was found wandering the streets. When I first met Reggie he was a little shy but I could tell that he had a great temperament and personality about him. The day I met him I knew he was the one for me so I made arraignments to adopt him. When Reggie was first introduced to my home he was very skittish and wanted to stay as close to me as possible and not lose sight of me. Finally after a month or so Reggie became acclimated with his new home and slowly gained his confidence back. Now he is so animated with his personality and everything he does seems to offer some sort of vibrant expression which most certainly brings a smile to anyone's face. Amongst all of his cool toys his favorite is the plain old squeaky hedgehog which he loves tossing up in the air and rolling around with it. After hours of playing with his toys he seems to find comfort in my lap or my bed and takes several naps throughout the day, only then to repeat the whole process all over again.

The whole experience has been great. I was nervous at first and was even a little reluctant about taking on the responsibility of becoming a dog owner however I am so happy I did. We are both a great fit for each other and I love having him around.

Now that I am a dog owner I am enjoying certain experiences that I probably would have never done before. We also have enrolled in obedience training and Reggie amazes me at how eager he is to learn and please. I am looking forward to many years of great companionship with Reggie and would recommend this breed to anyone who is looking for a smart, intelligent, and lovable dog and I would most definitely recommend BTRWW.


---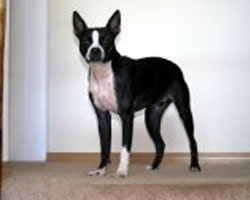 Jack came to us through the Boston terrier rescue group. He was a year old when we got him and we have had him about 3 months. He came to us with a bad case of mange. He was mostly bald and scabby. As you can see from the picture, he is now cured and his fur has returned. He is a friendly, gentle, playful little guy who wants nothing more than to be with his people. He follows us all day long, looking for attention or a wayward snack that might just come his way.

His best 4 footed friends are a Golden retriever and a British short hair cat. He plays tag with both and tug with the golden. He loves training sessions. Mainly because of the treats that come with the training sessions. His main activities are retrieving a tennis ball and terrorizing stuffed toys.

First thing every morning, he makes the rounds, at least twice to every living being in the house, ( 2 footed and 4 footed ) Just to say good morning and show how happy he is to be here.

When it is time to settle down, ( this happens about 3 times a day ) his favorite spot is the nearest lap. He patiently waits for someone to sit down and then jumps into their lap, curls up, after giving a multitude of kisses, and goes to sleep.

The smile of the day comes when Jack can't find a lap to curl up in. He then curls up with the Golden and is promptly joined by the cat. 87 Lb Golden, 23 Lb Boston and 11 Lb cat. All curled up on one bed.

He came to us with the name Jack. We have not changed it but have made it longer. " Jumpin' Jack Flash." The name is an excellent description of this loveable, exuberant little character that has invaded our home and hearts.


---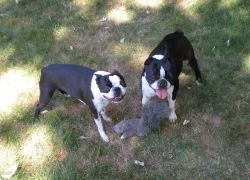 Jayna and Zan, both three years old, were surrendered to rescue, because the daycare housed in their home caused too much confusion and stress for the dogs. Jayna was having trouble breathing and keeping her food down. Zan had gained extra weight and seemed disconnected. This was a very difficult decision for the family to make for their dogs.

Jayna and Zan now live in Redmond with a very dedicated and loving owner. It took some time but Zan and Jayna are thriving. They seem to like their new home and backyard. They love to steal toys from each other and play tug of war. They also love the car and field trips. They are lovebugs and like to cuddle on the couch. Zan has lost some weight while Jayna has filled out as we've addressed her hernia with surgery.

I appreciate the courage of their family to pass them along. I think it's been a good experience for Jayna and Zan and it's been awesome for me. I feel lucky to have them.


---




It has taken Molly quite a while to settle in. She is much perkier these days and has become much more trusting.

The biggest thing that is happening now is that Molly will allow me to put a harness on her when I say "let's go for a walk". Up to now I've only been able to put the slimmest collar on her. When I want to take her for a walk, I want her harnessed. She still hangs her head and kind of slinks around when she has the harness on. But when I put a leash on her, she is interested in walking and exploring. So far it is just at the neighbor's house, but this is real progress.

I call her Sweet Molly because she is such a sweet little girl. My friends have fallen in love with her, too.

I feel so privileged to have Molly in my life.

Adele

---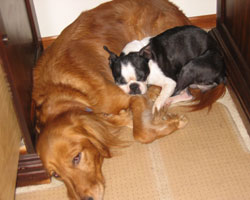 Maddie Our story actually begins over a year prior to us adopting. We had lost our precious 12 yr. old Golden Retriever on New Year's Eve, 2007. Our hearts were broken without any hope of mending. But, as we all know, time heals all, and by the end of the summer we were ready to consider another dog. Our 4 yr. old Golden wasn't handling being an "only" very well. She had lost considerable weight and just didn't have that happy spark any longer. I work for 3 veterinarians and had her checked out. It was unanimous, she simply needed another dog.

We filled out the application with Seattle Purebred Dog Rescue in November. I had always wanted a Boston Terrier, but never could bring myself to spend hundreds of dollars for a dog. Being in the veterinary profession for so many years, I also knew there were too many other dogs that needed homes, than to go out and buy a purebred dog.

Our Mr. Magoo story is also posted on the Boston Terrier Rescue of Western Washington's website. He was in our lives just a little while, but long enough to make our hearts suffer a loss once again. We decided to wait until after the holidays to even consider attempting another adoption.

We read in the papers and heard on the news about the puppy mill busts in our area. I knew there were going to be hundreds of dogs available soon. Sure enough, Vicki Brunell gave me a call in mid February. My aching heart lurched and did a "jump-start" when she shared that she had a darling little girl for us. The vets guessed her to be somewhere between three and five years old. Did we really want to go through another love affair? So, on Valentine's Day, we went to go "check her out". When we arrived, she was in her crate with the door open, but was inside a pen in the kitchen, since she wasn't housebroken. I got down on my knees and peered inside. She was very shy and timid and remained inside the crate until Vicki gave me a treat to offer her. She cautiously came out, stretching her scrawny little body as far as she could while making sure one foot remained firmly planted inside the crate. One good look at her and I was a complete goner. Here we go again! Love at first sight!

They had named her "Madison". I had my heart set on "Lady Bug". She was a sight to behold! One eye had an old scar from a previous stab wound injury; the other eye was a "dry-eye" and had a new ulcer on it too. She was super skinny and had very little muscle development do to living in a crate. She had a flaky dry hair coat and had just been spayed, a hernia repaired and her teeth cleaned with numerous extractions. She was BEAUTIFUL! After a lengthy discussion about medications and her short history, we loaded her up, a bag of medications, supplements, food, favorite toy and high hopes. On our way home we decided to change her name to "Maddie", and made Lady Bug her middle name. Maddie Lady Bug Crowley entered her new home at 1:00pm on Valentine's Day.

Katie, our 4 yr old Goldie, was very excited to see her. Maddie felt most secure in my lap, so I just sat and held her that first afternoon. Katie would approach and Maddie would nip at her nose. We were all thinking, "uh oh". I talked with Vicki the next day, and she advised me to put her down immediately and scold her with a harsh "No!" I really didn't know if I could do that to her. She was so scared and timid. But, I finally did, and she stopped the behavior almost instantly.

We are about to celebrate our 3rd month anniversary of her adoption day and I truly cannot imagine our lives without her. She is now almost completely housebroken. We started with nothing in that department. She had spent her entire life in a cage. It has been amazing to see how fast she caught on. Katie helped us a lot by showing Maddie the "ropes" outside. We have a huge fenced back yard and they now run laps around the circumference until Maddie looks like she is about to pass out from hyperventilation! They LOVE it! Maddie has one speed - HIGH GEAR!

Maddie gives us many reasons to smile, laugh, and love her more. I especially love her "cha cha" dance she does whenever she is waiting for anything. I think she is incapable of just standing still. Warm laundry is Maddie's number one favorite thing. She waits by the dryer for me to start un-loading and jumps right into the warm pile at first opportunity. She loves her crate and willingly goes in it whenever we need her to, or even when she just wants to rest. She is crated at the foot of our bed during the night. Her loud snores reassure us that she is perfectly relaxed and content in there. She adores her cuddle time with us on the bed beforehand though. How can something that small take up so much room!?!?

I honestly thought she was de-barked. A few weeks ago, she was looking out the front window when my husband walked by outside. She threw back her head and let out the softest little "a-roo roo" noise I have ever heard. I laughed myself silly. It was so very UNDER-stated!

Katie and Maddie wrestle every morning after breakfast. In between, they run their "laps" around the dining room table taking turns as to who is chasing who. Katie is now eating like a horse; Maddie has put on a pound and a half and tips the scales at a whopping 14.8 lbs. now. Her eye has healed but she will always need drops for the dry eye syndrome. We just had a mammary gland tumor removed. It was caught very early and she should recover completely. Her confidence level has soared. Katie is not a leader and is relieved that Maddie is the boss. Her patience with Maddie's bossiness is unending. Maddie is still hesitant with my husband, but is improving daily and is gaining her trust in him, too.

Maddie has filled a big void in our lives. She is so completely different than our Goldie's. Her zealous personality and continual grin, along with her expressive ears have us laughing at her most of the time. I didn't think it was possible to love this way again. Maddie worked her magic on us. She is such a joy in her unique little way. She has firmly settled into our mended hearts and her "forever" home. Thank you, Boston Terrier Rescue, for giving us our newest little love.

The Crowleys

---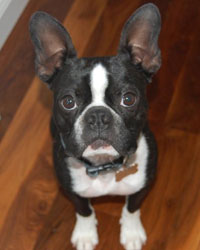 <

Tazz is a fearless and super energetic 21lb male and will be 2 years old in September. We applied to the Boston Terrier Rescue in September 08 after having our first Boston Terrier Hailey for just over a year. We really loved the breed and wanted to adopt a playmate for her. Vicki contacted us in January about Tazz who was 1 ½ years old looking for a forever family. His previous owners could no longer care of him as he was marking inside their house. They also had 2 young children and did not have the time required for him.

We requested to meet Tazz at our house to see if he was a good match for us and make sure he would get along with Hailey and our cat Beaker. As soon as we saw Tazz we knew that he would fit perfectly in our lives. Tazz has a very outgoing, energetic and loving personality and really works hard to please his family. Tazz was lacking in discipline and needed some basic training, consistency and leadership from his owners. He also requires regular exercise and challenges to keep him busy and stimulated. Tazz is a very active Boston!

We enrolled him in an obedience 101 class which he passed with flying colors and learned many basic commands and some tricks. We are happy to say Tazz no longer has a marking problem and he also plays great with other dogs and kids. Recently Tazz played with a police trained German Shepherd named Gina: apparently nobody told Tazz that he is only 21 lbs because he chased Gina around and outraced her a couple times in a game of fetch. Tazz continues to go to training classes and is ready to enroll into agility training. Tazz gets along famously with Hailey and they chase each other around the yard and wrestle with each other non-stop. Tazz's favorite pastimes are playing fetch, sticking his head out the window on car rides, walks with Hailey, playing with his toys, camping trips, fishing and following us around the house wherever we go.

We feel extremely fortunate to have Tazz in our lives and cannot thank Vicki and the SPDR organization enough for placing us with our new family member.


---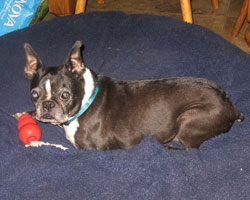 Mr. Dillon
The "Antique" Boston



Being one of a team of people who works with rescue for Boston Terriers in western Washington, I get e-mails and phone calls daily. People are either looking for a Boston or are trying to surrender one. In mid February of 2009, I received two e-mails and a phone call regarding an "antique Boston". All three stated that a man wanted to surrender a 19 year old male Boston. 19! I called the older gentleman, John, who owned the dog and was told that Mr. Dillon was indeed 19 years old and was deaf and blind.

Mr. Dillon had belonged to a man in the auto sales business in Spokane, WA. John had known the man and Mr. Dillon for several years and had often witnessed the neglect of the little brown dog. When Mr. Dillon's owner was drinking the little brown dog often did without. John always felt bad for the dog. On a cold snowy night in January of 2007, while on security patrol John spotted two shining eyes from under a motor home. When he got down to take a closer look there was Mr. Dillon curled up in his little red bed with a bag of dog food next to it. Mr. Dillon was shaking so hard that his teeth were chattering. His owner had gone and left the little dog to fend for himself. John snatched up the red bed with the shaking dog and hurried him inside. If John hadn't found the dog that night Mr. Dillon would have died.

Several days had passed and the dog's owner had not returned. John had taken Mr. Dillon home to care for him and to decide what to do when his owner returned. When the owner finally returned he was still drinking and John made a bold move. He told the man that he was keeping Mr. Dillon for now and when he sobered up he could have Mr. Dillon back. As you can guess Mr. Dillon's owner did not get sober and Mr. Dillon stayed with John and his wife. They moved to western Washington and brought Mr. Dillon with them.

Mr. Dillon's life was quite the opposite with John and his wife. He had the run of the house, the best dog food available and regular visits to the vet. He was totally house trained. He would go to the door and wait for someone to open it so he could go out. He slept a lot but, Mr. Dillon's favorite thing to do was to eat.

Back to February, 2009, I asked John how he knew that Mr. Dillon was indeed 19. He said that the dog was sixteen or seventeen when he found him under the motor home. When I asked why he wanted to give up the dog, he said he wanted to give Mr. Dillon up because he didn't want to watch him die. He knew that death was part of owning a dog but, he couldn't do it. As it turned out John's wife had been in the hospital for the past six weeks and was coming home. He needed to simplify things at home. Rescue agreed to take the Mr. Dillon and John was going to deliver him.

To tell the truth I didn't know what to expect. A rack of bones! Totally gray! Deaf and Blind! We vowed that Mr. Dillon would have the best remaining months of his life. Boy was I surprised! From out of the car came a plump, dark seal brown, shinny coated Boston Terrier with a few gray hairs on his face. He had the worst bad breath and brown teeth. His gate was awkward but, he moved quite well. His eyes were almost totally clouded over and he could hear but, not very well.

It took Mr. Dillon only thirty minutes to find his way around our home. He found his bed and the water dish. He located the dog door and went right out. It took a bit longer for him to figure out the large yard. The hardest part was the chain link fence and the two steps off the deck. Now, he takes himself out and comes back in all on his own and has never had an accident inside.

Mr. Dillon has lived with us for the past three months. He has been checked out by our vet, who thinks that he is probably somewhere between a very healthy 14 and 16 years old. His favorite things to do are to eat and sleep. He loves to have his rump scratched and dances a cha cha when we scratch him. He does go for short walks with us and plays a mean game of tug-of-war now and then.

We feel blessed to share our home and lives with this little brown Boston. He has worked his way into our hearts with his happy disposition and his goofy smile. We hope that Mr. Dillon does indeed live to be 19.

---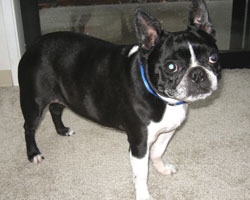 Katie came to live with me on the first of March. Her owner had died and she had been alone most of the time for a week. We don't know about her life before that. The owner's son brought her to Boston Terrier Rescue. She was transferred from one car to another and brought directly to my apartment. It was really traumatic for her: new surroundings and new people. The one familiar thing she had was the little doggie tent in which she slept.

It was difficult for Katie and me to get to know each other, but she is so good. The first time I left her, I just walked out and didn't put anything away where she couldn't reach it. When I returned, I found that she hadn't touched a thing. She was also easy to take for a walk, never pulling on the leash. She was, however, very much over weight and could hardly walk.

You should see us now. Katie looks so much better. She is beginning to have a waist line. We take long walks, when it's not raining. She enjoys being outside and investigates everything. She is still good inside whether I'm here or away. She has taken over the couch and sleeps there often, but she still uses her tent, especially when she's disgusted with me. She is teaching me to know what she wants and has become more affectionate and even lets me hug her once in a while. Mostly she just wants her tummy rubbed.

The biggest problem Katie has had is her fear of other dogs and aggression toward them. Melissa Lynch spent most of one day driving here to work with us. She was wonderfully understanding and helpful. As any dog owner knows, I had to learn the most. We meet very few other dogs, but Katie seems to be much better when we do.

Vicki and Gerri of Boston Terrier Rescue have been very helpful answering my questions, giving me suggestions, and reassuring me. They have helped me enjoy having Katie and I am most appreciative of all they have done.

Joan

---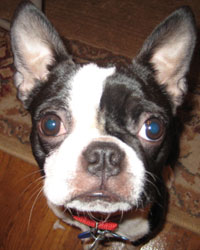 Jazz - Like everything Jasmine does, she came into our lives very quickly! We got the call she was available on a Saturday and the next day, March 1st, she was a new member of our family. Jasmine, or Jazz as we like to call her, was found as a stray in Olympia. What a shame because she is an incredibly sweet dog who would like nothing more than to snuggle up next to you and get under the covers! I 've never had a dog who would look into your face so lovingly and give you little kisses behind your ears like Jazz does. Her favorite things are chewing on her toys and chasing her older brother Boston Terrier, Spud. She is always curious about what we're doing (we know she's getting into trouble if she isn't in sight) and she likes to watch The Dog Whisperer with us! When she hears the other dogs barking on the TV, she'll watch the entire show, riveted. These are such great dogs who deserve wonderful homes and second chances. We're lucky to have Jazz, and glad that there was a resource to place her with us and save other dogs like her!


---

Frank's family had too many dogs and the city said one of them had to go. He was older and placed on Craig's List. Lucky for Frank, a good friend of rescue was able to get him. Many tears were shed as Frank moved from his home to a foster home and then into his new home.

He lives with a young family in Orting. He has his very own kids to play with. Frank has been the perfect addition to our family. We comment almost daily on his being the "perfect dog." He adapted so well to our family and seems to really love us as his own. He is mellow a lot of the time, enjoying sleeping on his favorite blanket or in front of the fire, but when he sees that we are ready to play he is more than willing and loves running around the house with the kids. He is endlessly patient with our 4 year old daughter who loves him to pieces (and on occasion will be too rough, though you would never know it as Frank seems to intuitively know to be gentle with kids and takes the tugging etc in perfect stride), and tolerates being dressed up like a doll like a true champ. Frank has developed a special bond with our 2 year old son who has special needs. It is very touching to watch them together. Frank will go to him and just sit with him for very long periods of time, licking him and lowering his head so that our son can pull his ears (again, endless patience). If our son cries Frank is instantly there checking on him.

When going for walks around our neighborhood we frequently see deer and as they spot us and run away Frank appears to feel very satisfied with himself as though he is some large animal who scared the "predators" away - all in a days work for Frank. ;) Apart from being home, Frank loves to go for rides in the car - standing alert in the passenger seat like a true co-pilot. He's also enjoyed going camping with us, all the squirrels he could ever hope for and a tent full of blankets to snuggle up in.

We instantly fell in love with Frank and now can not imagine our family without him. He really is the perfect dog and we love him very much.

---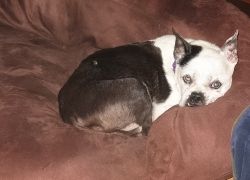 BLUE is a 14 year old female Boston Terrier mix. She came into rescue in March of 2009, when her elderly master was moved to Hospice. Blue did not age well. She could see and hear, just not very well. She has a big under bite with exposed bottom teeth and her tongue sticks out. She also has bald spots and numerous warts and her tail is quite long. What a sight she was!

Blue was and still is terrified of people. We could not even touch her at first. It has taken Blue six months to begin to trust us. She now wags her tail excitedly in greeting when we come home. She will follow you around and stand a few feet away from you to be near you. She is just now allowing us to pet her on her chest and back.

Blue's favorite things to do are to eat and to go for her short potty walks. She puts her head and tail up and struts down the sidewalk just as she must have done many years ago. We are grateful that Blue will live out her days in the safety of rescue in our home.


---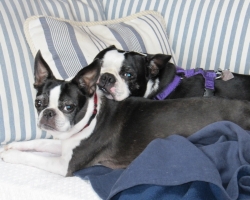 Kali and Toby are 10 year olds that had never been separated. They were children from a broken home. Lucky for them a wonderful family in Bellevue decided that they would make perfect additions to their family. The family had just lost both of their Bostons over a three month period to illness and old age. Toby and Kali had a huge hole to fill. But they were more than up to the task!

Toby is a HUGE fellow (now weighing in at a whopping 39 pounds) who believes he was born to be in your lap. He lays his head on your leg, gazes into your eyes with that small tail wagging furiously, and you're lost. Who could resist??? Kali is smart, quick and rules the roost. She's full of kisses for her human family but nips Toby's ankles if he's rude enough to take her ball (and they're ALL her balls!). The two love car rides, walks and cuddles with their family. They are a constant joy!

---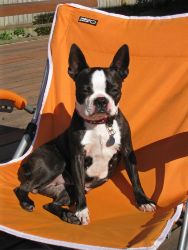 Lola

I acquired Lola in April of this year from the BTRWW, apparently she came from one of the puppy mills in Sultan that got shut down early in the year. I don't have a single regret in adopting Lola, she has been such a pleasure to have and keeps me laughing all the time. It took her awhile to get adjusted to her new surroundings but once she got settled in she has figured out that this if her forever home. It didn't take her long to get comfortable, as you can see in her picture she quickly took over my deck chair and it didn't take her long to move from her crate at night to my bed! She's figured out all the comforts of her new home. It's been so enjoyable watching the transition with Lola, at first when she first arrived to my home she didn't know anything about playing with toys, however now she loves to play with her stuffed animals and likes to run all over the yard with them. With Lola it's like watching a young child discover things for the first time.


---




Jodie is 4 years old and a lively, fun loving dog. She was adopted through Boston Terrier Rescue in April of 2009. She was found lost and wandering on the streets of Spokane, WA. Her microchip was still registered to breeder, Hazel Duckworth, a member of the BTCWW. Hazel had raised her as a puppy and had sold her to a Spokane family. She could not locate Jodie's owners, who had never registered the microchip. And they had not looked for Jodie at the animal shelter either. So, Jodie was given up for rescue. We don't know if her family abandoned her or if they were saddened by losing her.

Clarice volunteered to foster Jodie when she came into rescue. Then after just one day she asked to adopt her. It's been a match made in heaven. Jodie is a great walker and trots alongside Clarice without pulling on the leash at all. She loves to cuddle and give kisses. She has bonded with her new family, Clarice, Chuck, and her older Boston friend, Crystal, also a rescue dog. Jodie has discovered birds and squirrels in the backyard and dreams of catching one someday.

---




Abby is a four year old female Boston. She did not fit into her family and would wonder away. They decided to surrender her. She made the long trip across Washington into the waiting arms of her new family in West Seattle.

Abby lives with two other Bostons, Oreo12 and Butch 10. She fits right into her new family and everyone gets along great!

From Abby's new family. . .

Abby is a very loving ,sweet and gentle girl. Her favorite pastime is sleeping followed by licking everyone and everything. We laugh when she tries to wag her non existent tail. She looks like she is doing the twist. We call her wiggles when she does this. She scratches her belly by laying flat and going backwards instead of pulling her self forwards. Not sure how she does it. She will be 5 years old next month. My other Boston's love her.

---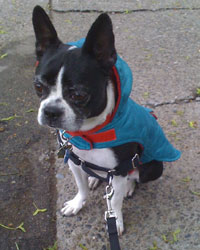 Maddie - 5 year old Maddie came to us after being passed around to multiple owners who weren't quite the right fit. Her mellow and sweet personality fits right in at our house, and she loves to cuddle up while we watch TV and burrow under the covers in bed. She seems to love living in the city (which was a big change for her) and stays very relaxed, even with lots of construction and sirens going on all around!

Maddie's favorite game is tug-of-war, especially when she gets to play with Max, her Boston Terrier friend that lives in our building. She gets very excited and loves to play hide and seek with her chew treats. We always laugh at the strange places she finds to hide them! Maddie is very laid back around our cat, even when he is grouchy! We know that someday she will win him over and they will become good friends. We love having Maddie in our home!

---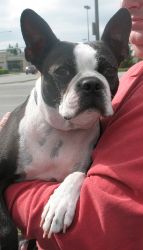 Buddy is a 5 year old. He had lived in several homes for the past three years. He was well behaved in the house, but outside on his walks he couldn't pull hard enough or sniff fast enough to get to everything he saw. On the other hand, he was a snuggly, loving, playful and very enthusiastic guy who at five, still has a lot of puppy in him.

Buddy found a family who had just lost their Boston and had lots of Boston Terrier experience. When Jim picked Buddy up, Buddy gave a big sigh as if to say finally I'm in a safe place. He has two young girls to play with and a Chihuahua sister named Chi Chi. Buddy has made himself right at home! He sleeps with our oldest daughter the first part of the night and then moves to our bed the second part. He is one smart dog!

Buddy's two favorite things are eating and playing tug-a-war. He is also beginning to like to play with a ball. We want Buddy to get used to riding in the car so he can travel with us next summer.

Buddy makes us laugh when he sits up like a prairie dog with his back straight and his paws resting on his chest. When he gets excited he loves to dance on his hind legs. He is really good at it.

We love Buddy soooo much. He completes our family. He is perfect in every way!

The Johnstons

---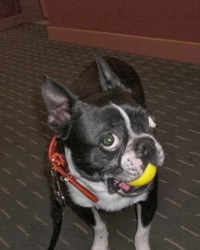 Stuey is a seven year old male that was wandering a rural town south of Portland, OR. A family found him, put up posters and put an add in the newspaper. No one claimed him. They contacted us and drove him half way to Seattle to see that he found a good home. Stuey now lives in a Seattle high rise with a young professional couple.

Here is what his new family had to say about him…

When Stuey first arrived, he was shy and seemed to sleep a lot. He also had an infected cyst on his arm. We quickly got attached to our new little black and white friend with large googly eyes so we closley monitored his healing. After just a few weeks, we were excited to see his health dramatically improve; he is now almost totally healed!

Two months following his arrival, our new dog Stuey has really become part of the family. He loves people and is not shy to show it. We believe he might truly be the biggest cuddler in the world! His new favorite thing to do is to sneak into bed at night. We often wonder how an 18 pound dog continually manages to take over an entire bed. Arms and legs sprawled out, snoring away!

Along with his great personality, Stuey also revealed he's quite the talented pup - he knows quite a few tricks! In addition to the bag of tricks he arrived with, he has recently learned "big high five" in which he gets on his hind legs to tap your hand with his paws! In addition to those show stoppers, he also loves to play fetch with balls and sticks and even loves to swim!

Arriving from the suburbs of Oregon, Stuey has adjusted great to life as a city dog in Seattle's Belltown. He loves meeting fellow city dogs out on walks and often accompanies us to meet friends for happy hour on restaurant patios. He even gets to go to work at the office each day with one of us. Everyone he crosses paths with - whether on the street, on the bus or in the office just loves him!

We really can't thank the Boston Terrier Rescue of Western Washington enough for the work they do each day to improve the lives of our little black and white friends. We feel so lucky to have such a loving, hilarious, happy dog and are excited for the years to come with this little guy. Stuey is really a part of the family now and we couldn't be happier!"

---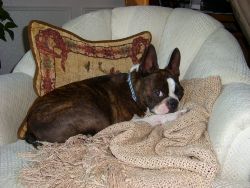 Gus was literally rescued form the busy streets of Lakewood, near Tacoma. He had no identification or a microchip. We guessed him to be two to three years old. The person who befriended him could not keep him, so they contacted SPDR/Boston Terrier Rescue. Gus now lives in a happy home in Bonney Lake, WA.

Thank you so much for Gus! We just love him. He is quite a character. His favorite friend is a dachshund named Sasha.

He makes us laugh and is full of energy. Gus enjoys going for rides in the car. Gus's favorite toy is a large exercise ball which he dribbles around forever. It's hilarious to watch! Gus is always allowed to sleep under the covers...he burrows down almost as far as your feet. He also loves to be bundled up in winter sweaters or his coat, and take walks with Jack our boxer.

---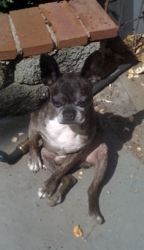 Buster is a 7 year old male rescued from a puppy mill in Snohomish County in June of 2009. He had several health issues and his future was touch and go for a while. Buster's guardian angle swooped in and adopted him. He now lives in Seattle with Moses, his French Bulldog brother. His health has improved greatly under the watchful eye of his new family.

Buster loves his walks. He and Moses walk 3 miles every morning. He is very social with other dogs we either walk with or meet on our walks. His favorite thing is to sit in the sun. The one thing that Buster doesn't like is the rain. He does not like to wear clothes, a coat or a sweater!

---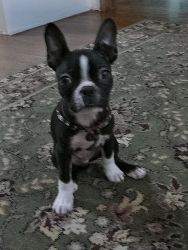 Meet Nahmi. Our family had wanted to get a Boston Terrier for some time, then we received a call from Gerri Wilson with SPDR. They had come to us with news of a male puppy that had been found at a rest stop in Northern California and brought to a vet in Rochester, Washington. He was estimated to be about 8-weeks old at the time. While on pins and needles and with a multitude of questions, we prepared to meet the Wilson's' and the puppy. Upon initially seeing him-all questions, caution, and uncertainty went out the window. He was as cute as can be, and at the time could fit into the palm of your hand. With near perfect markings and eyes that could melt one's heart, there wasn't much to decide.

Over the next week we tossed around different ideas for names. We wanted something that captured his California roots, the limitless energy Bostons are known for, and the fact that he had been nicknamed "Surfer Dude" by the vet who first cared for him. What resulted after much consideration and debate was Nahmi (as in Tsunami).

When not snuggled in someone's arms, he enjoys napping near our fireplace or playing with a favorite toy from his overflowing supply. When about to be fed, he'll dance and twirl until the bowl is set before him-and within seconds of setting it down the food is gone. He enjoys going everywhere his people go, and passing out kisses to all of whom he meets.

---




Dulcie was found wondering the streets by a young couple in Federal Way, WA. They were unable to locate her family and they could not keep her, so they contacted Boston Terrier Rescue.

Dulcie is such a wonderful dog. She is going to be three this coming February. I haven't stopped smiling since I got her. I was on the verge of saying "No more dogs" but I am so glad I didn't. Dulcie is as sweet as her name, lively and fun, and a perfect companion. But you know how Bostons are, she is every bit the puppy. While I use the computer, she wraps herself around me and snoozes. I call her my fanny pack.

She has one trick that I have never seen before. When she is excited and running, she twirls around as many as six times in a row. She can change direction, too. She looks like a circus performer.

She likes people and other dogs, but she likes me best. When I went to Gerri's to meet Dulcie, I put her on my lap, and she curled up and went to sleep, as though we were old friends. She adopted me from the first moment.

Thank you, to all of you in the Boston Terrier Rescue organization. You made this wonderful adoption possible and I am so grateful.

---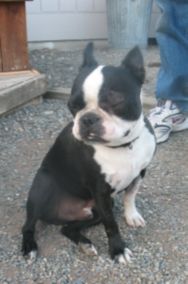 Bubba and his 5 year old littermate brother were surrendered because their family was loosing their home and they could not afford to keep them. Sadly, the night before Bubba was to come into rescue his right eye was injured and it had to be removed. The afternoon following Bubba's eye surgery, Bubba went to live with Brad, Margaret and Dolly, his new adopted family. Dolly is a young female Boston who is very shy but somehow she recognized that Bubba was recovering from an injury and boldly walked up to Bubba and proceeded to lick his injured eye. They've been best friends ever since that day.

Bubba and Dolly love sleeping in late, playing tug-a-war, and lounging by the fireplace. Brad, Margaret and Dolly are very happy that Bubba has joined the family! They couldn't have adopted a better dog!

---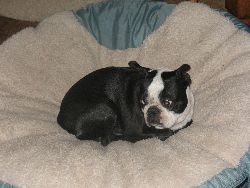 Tux and his five year old littermate brother were surrendered when their family lost their home and could no longer care for them. As you can see Tux loves his treats. Popcorn is his all time favorite.

Tux now lives with a couple in Spokane, WA. He has a Boston Brother, Renfield.

---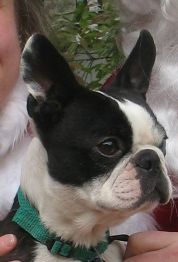 Torrie was a four year old female Boston Terrier. She was surrendered by a breeder and SPDR/ Boston Terrier Rescue was asked to help find her a forever home.

Torrie is now living in Federal Way, WA with a professional woman and her son. They had lost their rescued Boston a few months before and were thrilled to have another cute black and white bundle to love. Torrie loves to steal dirty laundry from the laundry room and stash them in and near her crate. She loves to sleep in the water bed where it is nice and warm. She and her dog buddy Blaze like to soak up the sun rays with me in the backyard. She hates, hates, hates to be cold!

---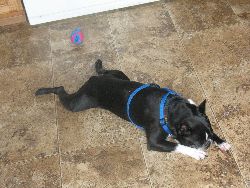 Bacon was an 8 year old male Boston. He was surrendered by his family because they were moving into a living situation that did not allow dogs. Bacon was much more like a puppy than an older dog. He loved his Kong and his ball.

Bacon is one lucky dog. He now lives in Friday Harbor in the San Wan Islands. He lives with a couple that had lost their Boston a few months earlier. They walk on the beach every day and play lots of ball. Bacon is one lucky dog!

---




Betsy was rescued from a breeder because she did not produce enough milk for her puppies. The kind family who rescued her tried to assimilate her into their family. I did not work out and they asked SPDR/Boston Terrier Rescue to fine her a home.

Betsy came to me through one of my closest friends. She met Vicki one day and got to talking about how much her friend (me) loves Bostons! One thing led to another and Betsy ended up living with me a few days later. While I did not think I was ready to have a dog, and they do take a lot of energy and time, I still feel so blessed that she came into my life.

Betsy is 3 years old now and I have had her just over 6 months. She loves to go for car rides and walks, especially at the beach. She loves the water, kind of a surprise. She also loves her down time, lying on the porch in the sun, or in front of a fire at night. She's one of the best cuddlers I know and likes being buried in blankets.

Betsy makes me smile everyday just looking at her. Her curious nature is annoyingly adorable. Betsy is the most wonderful thing that has happened to me in a long time! Thank you so much!!

---




Little Man Adorable little Mac came to us late October of 2009; he seemed to be starved for attention and had a curious personality. From the looks of his toes nails and reaction on a leash Mac seemed to never and been walked before and had a few other issues coming in to our home…. allergies, dry skin, eating his own feces outside if left unsupervised for only a minute…

Taking to a new family and change, Little Man or Manny as we now call him, has done so well. He is a smart dog and figured out the family routine rather quickly. His older sister just adores him and they took to each other right away. Manny has learned to walk on a leash and loves to get out and about, especially in the car and not without his fleece jacket. He tends to get chilly when it is cold or damp outside. If he gets too chilly he is wrapped up in his mother's coat for part of the walk. If Little Man runs outside to sniff or play he no longer has a desire to eat his own feces. We are so happy to no longer worry about that.

Manny's allergies have almost cleared up completely. We switched him to the raw diet and give him fruits and veggies as snacks. He and his sister Mackenzie just love to eat and chew dried sweet potatoes, all natural healthy chew bones made with delicious grain-free ingredients or peanut butter filled Kongs as snacks. His dry skin is getting better with daily doses of salmon oil and a natural save that his mom rubs onto the drier spots of his body when needed.

Little Man loves to play with his sister… tug of war, balls, bones… you name it he loves to grab anything out of the toy basket to tease her if he can before she takes it. He loves to lay right next to the fire when possible or snuggled up on our lap or in our arms underneath his fleece blankets. He enjoys car rides, sitting on the porch or in the sun, meeting new people and kids… boy does he love kids… and other dogs too. He shows more and more affection to us each day and his little nub (tail) as I call it, just moves more and more…

We are just thrilled for Manny and how far he has already come in the past 4-5 months. We love him and he is now a part of our family. His little personality grows each and every day that it excites us for more memories & experiences to come in our future together with him.


---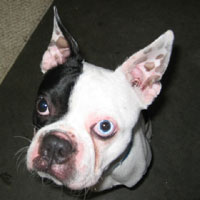 It Takes a Village!
. . . a letter of gratitude

First, a little background, one year old Angus was turned into the shelter in Seward, Alaska by his third family in a six week period. His first family bought him as a puppy and found out that he was deaf after a short time. They raised him for almost a year but, found that they were having to leave him home alone way too much. They gave him to family number two who was home more. Family number two gave him away in a store parking lot a week later to family number three. Family number three turned him in to the shelter. Angus was so confused, he was whining and barking, chewing everything, and having accidents in the house.

The caring shelter person, Jennifer Carrick, knew it would be hard to place a Boston Terrier in their remote corner of Alaska, let alone a deaf one. She noticed that Angus was quick to learn and seemed very mellow. During the day she moved him to her office so she could work with him. She began clicker training him with a pen light as the marker. He learned to give his attention and sit with the pen light. She contacted me to see if we could help find Angus a home. Jennifer also crate trained Angus, got his vaccinations and health certificate, and drove him to Anchorage for his flight to Seattle.

Enter Darla and Pat Durgan. While at work, I often share the stories of the dogs coming into rescue. I was sharing Angus's story when one of my coworkers said that she and her husband might be able to help transport Angus. Before I knew it, Pat, a pilot with United Airlines, and Darla had arranged a night out in Anchorage in order transport this young, deaf Boston Terrier back to Seattle. Not only did they fly up and back, but also paid the airline fees for little Angus too. It became evident early on that Angus DID NOT ENJOY FLYING, Pat and Darla managed to calm him down and he fell asleep just before landing in Seattle. It was a long three hours! Yet, they arrived with smiles.

Once Angus arrived and settled in, he quickly learned to use the dog door and adapted very well to being with five new dog friends. He even caught on to barking at the people as they walked by the yard. During the short time Angus was in our home, I had sifted through many inquiries and applications to locate a family that had the time and was willing to use the special techniques to train Angus.

Kristina and Matthew Mollohan were chosen to be the best possible home for Angus. They were willing to go the extra mile to accept him into their family. Angus's new best friend Chance, a Rat Terrier, was not so sure in the beginning. But now, they are inseparable. Angus has learned to take cues from Chance. Matthew has taught him several tricks. Angus also responds to hand signals.

Both Gerri and I are so very grateful to these kind people for their generous support of SPDR and Boston Terriers. Thanks to the Village, this lost boy has found his forever home. It couldn't have happened without them.

Sincerely,
Vicki Brunell
SPDR Boston Terrier C0-rep

---




Poppi was a small, 8 year old, female Boston Terrier. She was surrendered by a woman who was ill and had to move into a home where dogs were not allowed.

Poppi now lives in Blaine, WA with an active family. She lives with two other rescued dogs. Poppi loves to cuddle, go for walks, and chew her toys.

---




Mr. Bean was an 8 year old Boston that weighed 19 pounds. He was surrendered to rescue because his owner was moving and could no longer keep him. When he came into rescue he had very little hair and he couldn't seem to get enough water or food to eat. He also seemed to spend long periods of time standing in one place and staring. When we took Beanie into the vet he was diagnosed with an advanced case of Cushing's disease. We started him on the treatment for Cushing's and his symptoms became tolerable. The standing and staring didn't go away.

Beanie was a very sweet and affectionate boy. He loved to play fetch with squeaky toys or balls. He enjoyed going for walks and was a very mellow little guy. He only had one small issue. He was very aggressive toward cats and other small fluffy animals.

After four months of treatment Beanie's hair returned and he seemed more relaxed and would not inhale his food. However, in his eighth month with us his standing and staring were diagnosed as seizures. They were closer together and had become grand maul seizures. They were coming every day and sometimes more than one. Sadly, we lost our Beanie in June, 2010. He is missed!

Vicki & Al

---




CHIP When Chip's previous owner (an elderly man in an adult home) passed away, he was taken by King County Animal Control. When we picked him up from Vicki at SPDR, she said he was "special". He was skin and bone and extremely skittish….unless we were sitting on the couch, in which case he would latch on like a limpet and cuddle in the sweetest way.

After almost three months in our home, he is becoming more at ease and is always by our sides. He can be found right next to one of us, or running and playing with his canine housemates in our back yard. He has gained a little weight, has a clean bill of health, and is building up some muscle. He has a charming habit of holding his face to our cheeks, and likes to curl up in the crook of one's elbow (though he is 22 lbs now). He has been fabulous with other dogs from the beginning.

We are completely taken in. He was looking for someone to trust, and is now blossoming.

We couldn't be happier! Thanks so much!!!

---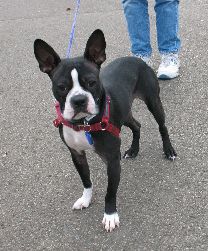 Franklin came to us just before Christmas, 2009, from a family who could no longer care for him. He is about 2 years old. Frank is mostly Boston, but he looks like he's got a bit of Bassett Hound as well, with the jowls and the turned-out front paws. He's a goofy boy. He loves to chase the ball (or anything, really)--he will wake from a dead sleep if one of us starts to put the toys away, because anything we touch becomes a "live ball." One thing Franklin is good at: he can cover himself up with his blanket. Don't know where he learned that nifty trick, but we wish he would teach Elly, his sister, how to do it. Frank and Elly are learning how to get along, with help from mom and dad. Elly shares her toys (well...mostly), and has learned to get out of the way when Frank runs after his ball. Frank, for his part, has learned that Elly gets half of his treats. Above all, Frank is a lover. He likes to cuddle and give kisses, and if we leave the room he follows. He loves everyone at first sight.

---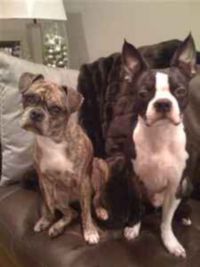 Jake and Hank I had had Bostons growing up and was feeling the need to add to add another one to my family. I called SPDR/ BTRWW inquiring about a Boston that was on the available list, but he had already found his home. A few months later I was contacted and asked if I would be willing to take 2 boys, a 6 year old Boston named Hank and a 5 year old Pug/Boston named Jake. Due to life changing events in their previous owner's life she could no longer take care of them. That phone call changed our lives. They are so loved and spoiled. Hank and Jake have four children and two other dog friends to play with. We are so thankful for the rescue, Boston's are an incredible dog who deserve and desire a forever loving family.

The Taylor Family

---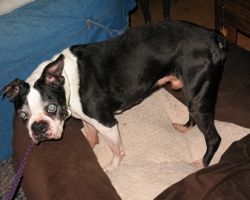 Buster is a 12 year old male Boston. He weighs about 20 pounds. He was taken from his family because they had too many animals and could not care for them. The Everett Shelter asked for help in placing Buster.

Buster was adopted by a wonderful woman who was looking for a senior dog for a friend to her older female Boston. She and her Boston, Sadie, drove to Everett and scooped Buster up and took him home. It took quite a while to get Buster's health going in the right direction.

Buster is doing extremely well now. His favorite thing to do is lay on the grass in the sun with his chew stick. He's also becoming quite the gardener. His other two favorite things to do are eating and sleeping. He loves to snuggle in the quilts. He even enjoyed the snow we had last winter. Buster is looking forward to spending more time at the lake house this summer. Buster is a very lucky dog!

---
© Copyright 2005-12 Boston Terrier Rescue of Western Washington
• Last Updated 16 July 2011 • [an error occurred while processing this directive]