These Bostons have found Forever Families in 2011 through BTRWW
Boston Terrier Rescue of Western Washington places all rescue Boston Terriers through SeattleRescue. Please see our Adoption page to see how to adopt a Boston Terrier.
---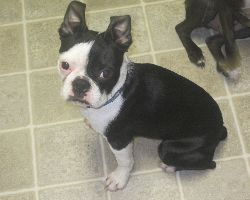 Dexter was picked up as a stray at only 8 months old. By the time he left his foster home is knew most of his basic commands and was very affectionate. He now lives in Bellevue, WA with a loving family. Dexter loves going to his training classes and loves playing with his Boston brother, Ringo.

---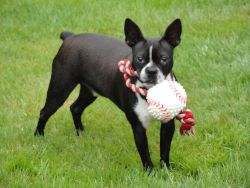 Axo is an eight month old, 16 pound, male Boston. He came from a family, who, as most, probably took on a bit more than they were ready for. He joined our family on February 17, 2011. I already had a little girl Boston named "Button" and she just really wanted a companion for those doggy play moments. I had been following the Seattle Purebred Dog/Boston Terrier Rescue for some time and decided to apply.

Axo's name was originally "Jabber", however, as soon as he arrived home he became "Axo". He is named after my oldest son's motocross gear that he wears racing professional motocross. Axo is a big joy in our lives. He has adapted so well and loves to play with his new sister. He is timid and will do anything to please you. One of his favorite things is to be held like a baby, with feet in the air and you scratch his tummy. It seems so funny for such a big Boston. We play ball, go for walks, and most of all "tugs" for hours with his new sister. Thank you, SPDR/Boston Terrier Rescue for making our family whole with the joy of owning "Boston Terriers".

Sincerely, Terri Zenker and family

---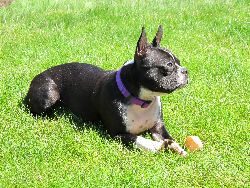 Scooter will be 1 year old next month! He is a 20 pound, male Boston. He came from a family who became over whelmed with Scooter and his brother's puppy antics. This family wanted a better life for these puppies and surrendered them to rescue.

After a long search for a new family pet, we adopted Scooter in February of 2011 with the help of my granddaughters, London and Piper. Scooter is definitely a "Keeper", with his faithful companionship, guardianship and playful personality. Scooter has gone through training and proven to be a sharp puppy student through Basic Manners and Better Manners. He is playful with people, especially London and Piper. Going to the Reber Ranch dog park he runs and runs, using his energy to out-perform the big dogs.

Through the chilly winter months, Scooter rests by the fireplace indoors in his doggie bed (his favorite spot in the house!!) On sunny days, he prefers to be outdoors and chew on a hoof or an antler. He has lots of room to run and play fetch, also one of his favorite activities. He's a sweet little dog and he receives lots of attention from strangers while on walks. Scooter brings joy to our household!

Linda and Hank Stortenbecker

---


Genji and Momo are 9 year old littermates who had never been separated. They found themselves looking for new home when their elderly owner passed away.

After months of researching puppy rearing and Boston Terrier information, Sayumi and I found ourselves at the Seattle Dog Show. We had hoped to find more information about the Boston Terrier breed. We found even more. The folks at the Boston Terrier rescue booth convinced us that adoption was the best route for us, first time dog owners. Fate as it were, didn't see fit to have us just adopt one, but two dogs- Jesse and Butchy.

Renamed, Genji (Jessie, with the half white face) and Momo (Butchy), we had adopted the best team of dogs two newbies like us could ever hope to find. Genji, will jump feet in the air for a toy and wait twice as long on you to play with her. She never tires and even as she is falling asleep on her bed, she keeps one eager eye open for the nearest tennis ball to bounce. Momo follows Sayumi around up and down the stairs and loves to keep her company while she studies for her PhD. Genji is always prepared to sit for a treat and loves to lick and give affection. While Momo is a lot less energized as Genji, lately, he has been really giving her a run for her money when we play fetch. He may not run as fast, but on her way back, Momo usually intercepts her to try and tug away the Frisbee from her mouth. She usually ends up bringing it back with Momo attached. Both Dogs have settled in amazingly, and despite them being 9 years old, we think we will have many, many years of great companionship.

---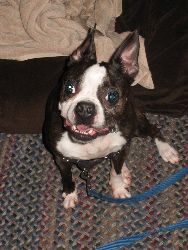 Charlie came to us from the Boston Terrier Rescue Group in March of 2011. He was surrendered to rescue because of a divorce. Charlie is a 6 year old male brindle Boston. We wanted to adopt another Boston to keep our other Boston, Mugsy, company. We had also adopted Mugsy through SPDR/BTR. He had been lonely since our 20 year old Tibetan Terrier, Mia, had died.

Charlie has been a wonderful addition to the family and a wonderful brother to Mugsy. The boys love to play tug of war, go camping and hit the dog park. Charlie will always sit when he's fed and wait for a pat which he rewards with a kiss before he eats. We're very thankful to BTR for the good work they do and the joy our boys have brought to our family.

John and Mary Gierlak.

---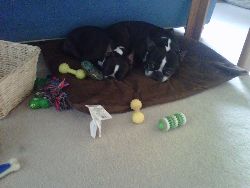 Bruno & Peanut After dog-sitting a friends Boston Terrier for the last couple of years, I decided this year was the year to get my own! I wanted to rescue a Boston, so went immediately to PetFinder. That's where I first heard about Seattle Purebred Dog Rescue. I contacted them about a couple of Boston Terriers that were listed, but found out that they had already been adopted. They told me they rarely have Bostons come up for adoption, but would contact me when they did. I was sad, but willing to wait!

Lo and behold, about a week later Vicki contacted me about a pair that were just being put into the system. Bruno and Peanut were 7 year old brother and sister Bostons looking for a new home due to changes in their household. The adoption process only took a few weeks, then before I knew it I was driving back from Issaquah with 2 adorable Bostons as travel mates!

Bruno and Peanut are funny, loving dogs that have assimilated into our family effortlessly. They get along great with everyone in the family with the exception of our two cats, but we're working on that…. . We call them "Brunut" or "Peano" collectively just like they do for Hollywood couples that are dating, and think it's funny how they look like the Boston Terrier version of Russian nesting dolls due to their difference in size. They provide companionship, affection, and entertainment to our house and our Black Lab, Miney, enjoys being part of a pack again after losing her two dog "brothers" in the last 3 years.

We are so grateful for the work that Seattle Purebred Dog Rescue and Vicki and Al do that brought "Brunut" into our lives. I think it's safe to say that we will be lifelong Boston Terrier owners for the rest of our lives.

---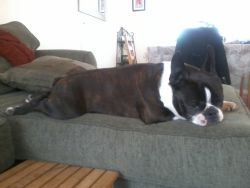 Rhino (Rusty) is a 6 ½ year old, neutered male Boston. He weighs in at 30 pounds. Rhino came in to rescue because his family could no longer care for him.

Rhino is such a sweetheart and I can't be happier to have adopted him! He's a total marshmallow, but at the same time is always right by my side like he's standing guard and protecting me (I was kind of wary about getting a boy at first, but now totally love my little man!!). He gets along perfectly with his little sister Paislei and they are just hysterical together. Rhino now shares her obsession with chasing balls & we are currently working on getting him to swim this summer. He also loves the dog park and napping.

Since he came home, he's lost about 8lbs or so & had surgery to remove 17 teeth (I know it seems excessive, but he was in pretty bad shape and a lot worse than anyone realized- had infections in his gums & bone, shards of broken teeth, impacted teeth, etc). - I felt sooo bad the day after the surgery - he just kept looking at me like "what did you do to me?" But, he was just fine after a few days and now I swear - he's a totally different dog! It's really amazing to see the difference in his quality of life - he had a few other minor issues too like an ear infection, some allergies, needed some joint meds, etc. - so within a week of getting him fixed up, on good food and vitamins and out of surgery, the difference was just incredible - he smelled better, skin wasn't itchy anymore, he was shinier, eyes not bloodshot anymore, had a ton more energy and you could just tell he had been in pain for a long time and now felt good again. Anyway, my little man is doing really, really well now. Someone at the dog park yesterday, even asked how old he was cause he was jumping around like a puppy (but with greying hair) and they couldn't believe it!!

Thank you so very much for bringing us together. He has been a wonderful addition to our family and I can't imagine life without him now.

Sincerely, Capitola Brunk

---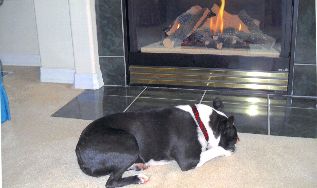 Lewis is a 5 year old, 21 pound, neutered Boston. He came in to rescue because his brother was bullying him and his loving owner wanted a better life for him. So, she asked rescue to find him a new home.

After the death of our beloved female Boston Terrier, Fresca, in January, we found an old phone number of the Wilson's. They were helpful with our application to SPDR. On April 30th we went to Redmond, WA where Vicki helped transition Lewis from his former loving owner, Joan, to us. Lewis was in very good health and well trained to be a family pet in a household where he could get lots of attention, be the only pet, and have lots of walks.

Lewis loves to walk, lie in the sun, and sleep under his blanket. He also likes to run on leash with our 11 year old, pet loving, grand daughter, Megan. Of course he loves to eat, but is very good about not begging or foraging for food. He stays close to where we are in the house, the yard, and times when we let him off leash in safe places. If one of us goes out the door or upstairs to the loft, he scurries around to reassure himself that he is not alone.

Lewis thinks he wants to meet other dogs, but given the chance he panics out. Yesterday, when I let him off leash at the nearby fenced elementary school playfield, he gingerly crept up to the fenced back yard of the house where he knew a golden retriever lived I could see the retriever on the other end of his yard, as Lewis carefully peeked around the ivy to try to see the other dog. About then the retriever bounced at the fence near Lewis. Lewis immediately sprinted for all he was worth to the other side of the playfield a couple of baseball fields away.

We laugh when Lewis decides it is time to get up and scampers down the hall whimpering the whole way.

We are thankful to have Lewis and thankful for the diligent work Vicki and the other SPDR members did to help us adopt him.

Sincerely, Jim & Julie Fleming

---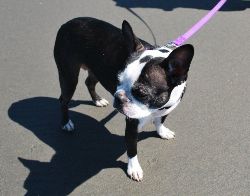 Mini's family had lost their home and could not keep her. She was surrendered to rescue. When we 1st went to meet Mini at Glen and Gerri's, my partner and I were a little apprehensive about adopting a 7 year old dog. All that changed, when we met Mini and she licked our faces. We knew right away that we were taking Mini home with us.

Mini's introduction to our home was smooth and quick. She and Buster (our 3yo Boston-Frenchie rescue) have really hit it off. They play tug and wrestle all the time. And truth be told, we can tell Buster is letting Mini win at wrestling, and that seems to be okay with her. :-) Mini and our cat Nyla get along great as well. And from what I can tell, Nyla prefers Mini over Buster. That's probably because Mini hasn't shown an interest in Nyla's food. Unlike Buster, Mini doesn't have a desire to jump off the couch and tackle her.

There are so many things that Mini does that brings a smile to our faces, but watching her and Buster play is probably what brings Bryan and me the most joy. We didn't just adopt Mini for us, we adopted her for Buster, too. We really wanted him to have a playmate and companion for when we're at work.

I have to mention the snoring. Oh the snoring! Mini's snoring is unbelievably loud and cute (unless you're trying to sleep LOL).

---


Maggie Hello, my name is Maggie and I am a Boston Terrier rescued through Seattle Purebred Dog Rescue by my new mother, Karen. My former owner was ill with cancer and could no longer take care of me. I am 8 1/2 years old and very spunky for my age. You can see I'm a little wall-eyed, but my vision is just fine. I've been told I look like a little bug. BTW, a litter of pups is in my past and have a soft bark due to some surgery on my vocal cords. For the past 5 weeks, I've learned to adapt to my new surroundings and I love it.

I love soft toys and blankets, they comfort me in unusual ways (I like to nurse on them). I demand cookies and treats several times a day and eat meals with gusto. I even dance and race around until I get my food.

Since my mother is the creative type, she is making me clothes. I already have a bright colored rain coat. Plans are in the works for fleece pajamas, a natty wool jacket and a frilly dress to wear at a parade in August.

Outdoors is my favorite thing (next to cuddling). Whether sniffing in the back yard, going on long walks or hikes to the beach, I am strong and like to pull. However, I know the word 'heel' and will obey when reminded. As for greeting other dogs, I like to make myself look larger than I really am by raising my hackles. I don't mean any harm, just want some respect.

Another past time is rolling in grass, picking up the odors left behind by other creatures. Then I'm due for a bath, which I don't mind. It is invigorating and I race around the house and dry myself on mom's nice sofa.

Maggie & Karen

---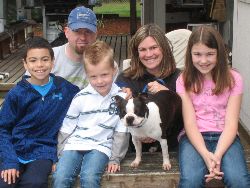 Papi is a 4 year old, neutered male Boston. He was surrendered to rescue because his family didn't have the time that he deserved. He was living out side because he had started marking and was not allowed in the house at all.

As you can see Papi's life has changed for the better. He now lives with a wonderful family in Lake Stevens, WA.

---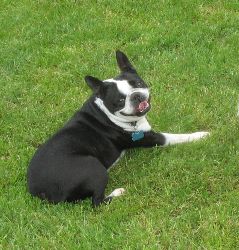 Sweetie is a 7 year old, 23#, spayed Boston Terrier. She was surrendered to rescue because her family didn't have the time that he deserved. They wanted a better life for her. Sweetie was adopted by a retired woman in Mount Vernon, WA.

Sweetie is so sweet and a dream to be around. She loves to be in the recliner all wrapped up in her sheet blankets. She loves to roll up in them for the night and just have her nose out. Sweetie's favorite things are playing with the hose (water full strength), me, Quigglie, and chasing the ball. Who knows which one comes first? She and Quigglie play ball, tug and wrestle as much as he can get her to do. Oh yes, they go every place with me in the car and love it.

---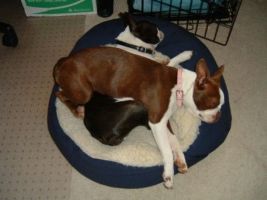 Suny is a beautiful red Boston. She is16 pounds and 2 years old. She came into rescue because her family could no longer care for two dogs. Suny now lives with a young professional woman in Seattle. She is an affectionate and loving family member.

---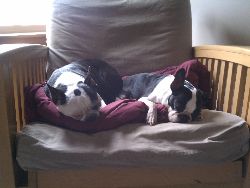 Bruno and Riley, with the half white face, are doing wonderful! We mostly refer to Bruno as Bubby and Riley as Piggy but no official name change. Bruno/Bubby is 12 and Riley/Piggy just turned 10. We feel so lucky each and every day to have them in our lives! They bring so much comfort and joy to us and we spoil them in return! I am so happy that we kept them together - they treat each other like a brother and a sister ... sometimes Bubby will lick Riley's ears and she acts like she likes it and other times she lets him know to back off!

They sleep in the bed with us which is probably not the best practice but they love to be warm and tunnel under the blankets ... they both snore but Piggy sounds like a lumberjack. We also go on walks and Bubby sprinkles his calling card every few feet it seems ... Piggy is a bigger girl so she ususally brings up the back except when she sees another dog and shows off by doing a little jig. They also love to go on car rides even if it is just a quick trip ... they get so excited when you say "car". And of course, they are a great welcoming committee when we come home after work ... All in all we don't feel like we could have picked any better even if we had been able to see them in person before the adoption ... they fit our family perfectly and we hope to make the rest of their lives the best possible!

Thank you so much for all that you and SPDR do for the pooches that need forever homes!

Shellye and Kenny Mudge

---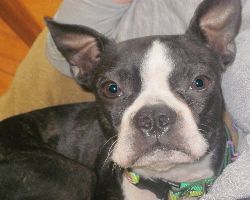 Isley Last May, we lost our dearly beloved, almost 18-year-old Boston, named Mickey (originally a rescue from Brooklyn, NY) to old age. We missed him dearly and decided after a couple months that we wanted to adopt another Boston. That's when the sweet, gentle and adorable Isley entered our life through connecting with SPDR. Isley (formerly known as Lucky) is a two-and-a-half year old Boston rescue who is now on his third home with us. His most recent owners gave him up because of his separation anxiety issues, and their long work schedules which resulted in him in getting in trouble around their house (and kept him crated for most of the day). With the help of some obedience classes, daily exercise and loads of affection, Isley is now a well-adjusted, happy and thriving family dog. He loves going for hikes, chasing balls and climbing in bed with us and burrowing under the covers. He adores people (especially our 10-year-old daughter who has taught him how to dance (!)) and always craves your undivided attention. His separation anxiety problems have lessened considerably with the company of our other family pets, and my wife being able to work from home. He loves giving kisses and is a great cuddler. He gets along well with our two other dogs (Dachshund/Terrier mix and Bichon/Poodle mix) and two cats. Isley loves all the attention he receives, and is very content and happy with his new surroundings and new family. We couldn't imagine life without him. Isley rocks!

Ron Bally and family
Bellingham, WA

---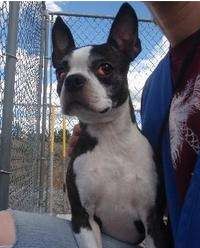 Kacee is a 9 year old, 15 pound Boston. She came into rescue after she was attacked by another dog and hospitalized. Her family told the vet to fix her up. When she was ready to go home the family didn't want her.

Kacee came to rescue to recover from her bites. She had cherry eye surgery on both eyes and was spayed. When she was healthy again we were looking for that very special person to love only her. We found him living in Renton. He had lost his previous dog and wanted someone to go for walks and play fetch with. Kacee was thrilled.

Kacee's favorite things to do are to chase a ball down the hallway and bring it back for more. She loves her walks and meeting people. Most evenings you will find Kacee snuggled with her man in his recliner.

---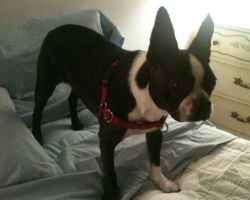 Wilbur is a 24 pound, 3 year old Boston. Yes, he was named Wilbur, from Charlotte's Web, because of his snorts, snoring, and his curly Q tail. He came into rescue because his family could not give him the attention he deserves.

Wilbur is now living with a great family in Seattle. He even has his own two kids.

He loves attention, scratches, and long walks. His favorite toys are tennis balls and empty water bottles. But most of all, he loves people!

---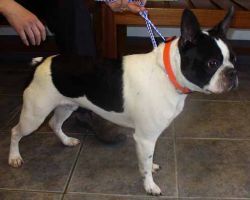 Riley
---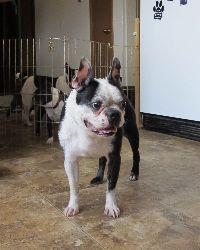 AL

We needed a companion for our Boston Terrier mix Winston, so the idea of a dog friend was born. Al came to us in Sept of 2011. We picked him up at Vicki and Al's home amid a gaggle of Bostons. He seemed like a good guy kinda serious looking but Winston liked him so we took him home.

His 2nd day we went for a beach walk and Al was plum tuckered out. So after a visit to the vet we learned he was 8 yrs old, has a heart murmur and cysts on his eyes but he acted like he wanted to give it a go so we all decided to persevere.

Now, after 6 months (with glucosamine and good food) Al is a regular island dog. When he is not sleeping in one of their many dog beds, we think his favorite thing to do is walk at the sandy beach, or perhaps at the park where he and Winston play with Tripp the black lab, or in the woods where they sniff out chipmunks or hhmmmmmmm?!

---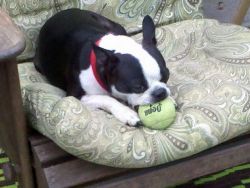 Lucy is almost four years old and is the first "small" Boston we have had the pleasure to have in our home at only 13 lbs. She acts just like her larger packmates and you forget she is tiny, until you hear her occasional bark (it is a little dog's bark)!

When she came to us, she was very quiet. She was in need of a home as her former owners were suffering loss of home and resources, it was obvious that she was very well loved. She has relaxed in our home and become happy and fun loving. She likes to sit next to her people and cuddle, and loves bed time - especially if she is allowed in our bed! She likes the kiddy swimming pool, fuzzy toys, shoulder massages and 100% Venison treats (food allergies limit her selection). She loves to flirt with the boy dogs and is not afraid to play with the big dogs! She is always smart enough to roll over at the right moment.

We are completely charmed, and so happy to have her in our home.

Mike and Karyn Rasmussen

---


Manny is about 5 and a half years old, 24 lbs of muscle. He is the most affectionate dog I have ever experienced. He is the type of dog who is always in the same room that you are in, he is quiet and easy going...but loves a good tussel with a toy. He thinks garden hoses need to be stalked and kept in check....we are working on that, and making progress!

His former owner sufferred loss of home and income, and was forced to find a good home for their beloved pet. He is now recovering nicely from a palate / nare surgery to open up his congested airway and prevent later health issues.

Manny has captured our hearts.

Mike and Karyn Rasmussen

---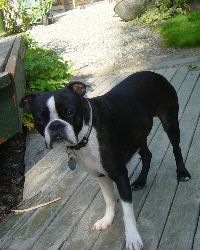 Quincy came to live with us in late summer of 2011. He had belonged to an elderly lady who found it hard to keep up with his energy as he grew. She had placed him with her groomer who had lots of dogs already, but who had agreed to try and find a good home for him. That was where SPDR came into the picture.

We had previously adopted C.C., our five year old Boston Terrier from SPDR. We were involved with the information booth at the Puyallup Fair. At the fair we met and talked with other owners who seemed surprised that we only had one dog. "They're like potato chips," one owner said "once you have one; you seem to always end up with more."

C.C. was in need of some socialization when he joined our family and even though we took him to parks and social events he was still timid and lacked the courage to be comfortable in new situations. We decided to get a second Boston.

Quincy joined our family and quickly picked my husband, Jim, as his favorite. At night when we are all watching TV Quincy will climb up on Jim's chest and lay for petting. It's quite the picture to see my husband reclined in his chair with a 25lb dog on his chest.

Quincy's favorite game is tug-o-war. He will play with anyone and he and C.C. have pulling matches forward and backward all through the house. Quincy will bring his toy and lay it at your feet when he's ready to and sit and wait for you to throw it.

Quincy's personality is very sweet and low-key. It's easy to see that he was loved and well cared for before he came to us. He likes to choose his people cuddle time on his own. Often he will choose to "lounge" in bed instead of being next to us.

We couldn't be happier. C.C. has made a remarkable improvement in his socialization and confidence level now that he has a brother. And our fears of having more than one dog are gone, too. I guess it's true, like shoes, some things are better in pairs. We know our dogs (potato chips) are.

---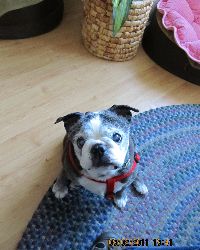 Little Orphan Annie

My boyfriend, Gabe, loves to look up pictures of his favorite animals. Bostons hold high ranking on that list. I've been shown lots of adorable Bostons over the years but none tugged at my heart strings until Annie, a sweet old Boston-Bull mix. My heart ached for her even more when I found her elderly guardian had passed away and she was dropped at the shelter, a homeless old girl after a life full of love. The problem was that with Gabe in school full time and me only working part-time we just aren't able to have a place for our little orphan Annie. Thankfully, my Mom and Dad have ten acres and are suckers for an old critter in need of a loving home!

In the time Annie has been with us we have learned many of her quirks and talents but she always has something new. About a month ago my Mom discovered that Annie knows the command "speak" and there isn't much cuter than her low, gruff "woof." "Sit pretty" is her best trick and as cute as they get but we try not to ask her to too often (the poor old girl has some rough joints).

Annie has a healthy appetite and we have found a great way to slow down her mealtime and provide ourselves with some cheap entertainment; a kibble dispensing ball! The first time she met it she gave it a good barking to but now she rolls it around like a champ. In the morning and throughout the day we often find Annie with her head, and only her head, buried under her little fleece blanket. It's fun to watch her get her blanket just right and oh so funny when she jumps down and makes it at least halfway across the room with her blankie still hanging off of her. In the evenings you can find Annie nestled next to my Dad, his big hand patting her little sweet head. It's a heartwarming scene. Annie has brought much love and laughter into our lives.

Thank you, Boston Terrier Rescue!

---


Betty is a fabulous senior lady at 9 years old. She came into rescue as a stray and weighs about 20 pounds. She had ear infections, allergies, and a golf ball size tumor hanging from her armpit. But that didn't stop Betty's perky personality from shining through.

After Betty's surgery to remove her tumor she found a forever home with a family with two children and two doggie friends. She loves to go for walks and play with toys. Although Betty is not a snuggler, she loves to be petted.

---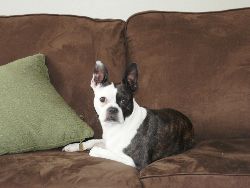 Tilmen is a 2 year old 16 pound Boston. His first family had a baby and could no longer care for him too. A friend of a friend took him in and that's how Tilmen came into rescue.

Tilmen is such a great addition to our family. Tilmen's best buddy is our other Boston, Tamsen. This is quite an honor for Tansen because Tilmen doesn't seem to care too much for our cat or the neighbor's dog. Tamsen and Tilmen like to play tug of war with their ropes. But his favorite toy is a tennis ball.

Tilmen is very loving and cuddly and has the greatest smile of all time. He is very curious about things around the house, which can be pretty amusing because he startles himself sometimes. He loves to go for walks so he can explore the outdoors. We look forward to taking him camping with us this summer.

Tilmen brings so much joy and love into our family. When we first pulled up to meet Tilmen we all instantly fell in love with him; his great smile and outgoing personality. We were so excited to make Tilmen a part of our family the day we met him, we had to rearrange our schedule for such a special delivery, but it was well worth it.

The Horton's

---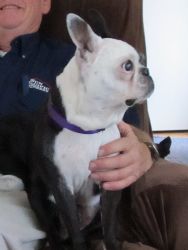 Blake is a 12 year old, 19 pound, gentleman. He came into rescue as a stray that couldn't see or hear very well. Because of some other health issues he stayed at the shelter for two extra weeks. No one came looking for him.

Blake is now living in our rescue home. He fits right in and is a joy to have. He gets along with everyone. He is still kinda feisty. I bet he was a terror when he was younger.

Blake meets everyone who visits at the door with a toy. He plays a mean game of tug and loves to go for walks. But, his favorite thing to do is sit in the sun. He makes us smile everyday!

Vicki & Al

---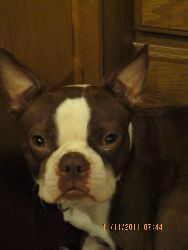 Ike
In the fall of 2011, our family went to the Puyallup Fair as we do each year. Our daughter has always wanted a dog and our son has always wanted a cat, so we always go to see the dog and cat displays. As we were walking through one of the animal barns, we came upon an area that was displaying pure-bred rescue dogs of various breeds. Having grown up with a Boston Terrier as my first pet, I was instantly attracted to the Boston Terriers that were being shown. That is how we met Vicki Brunell of Boston Terrier Rescue.

Three months later we received a call from Vicki regarding a young male Boston that had been found wondering around Olympia. After seeing some pictures of the dog and taking some time to convince my wife, we went to Vicki's house to meet "Red". We spent about two hours getting to know "Red", but decided to take some more time to think about the big changes we would have to make in order to adopt a dog. As we were pulling out of Vicki's driveway, "Red" came running out of the house and down the fence line as if he was saying "take me with you". My wife took one look at his face and instantly fell in love with him. A few minutes later we took a family vote and it was unanimous. As they say, the rest is history.

Our children have since renamed "Red", Ike. He has taken well to the name. Ike's most outstanding trait is that he loves to play with other dogs. His favorite place to be is at the off-leash dog park at Magnuson Park, running and playing with other dogs of all sizes. He will wrestle and play tug-of-war until he is totally exhausted. Ike also loves to run around our large back yard, play fetch, and tug-of-war with our children. At the end of a long day, his favorite thing to do is to snuggle up with whoever is the first person on the couch and take a nap.

The Shea Family

---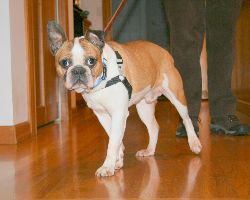 A New Chapter for Whiskey

Whiskey came to our home on Beacon Hill in Seattle in November 2011. He was a very energetic seven years "young", eager to please. He quickly settled into the routine of the house within two days. He is a good dog, and I am afraid we spoil him. He has an "upstairs" bed and a "downstairs" bed, plus pride of place on the sofa in the den, and a special perch at the front window where he catches some rays during the day. When he plays, he plays! But does he love to cuddle when it's time to be quiet. He loves to sleep in the grandson's bed at night, although he is quite good at sleeping anywhere he is told or where the mood catches him.

Most days, he shadows Micah, who is retired, as Micah does work around the house. When Micah takes him on errands, he has his own booster seat in the car (lined with sheepskin). We take him for walks around the neighborhood twice a day, and he has the run of the enclosed backyard. Once the weather becomes nicer, we will take him to the new park in our neighborhood. He has met the "cousins" and the neighbors, and he has proven himself to be a "gentle-dog" and a charmer. He has been told that he is welcome anytime.

---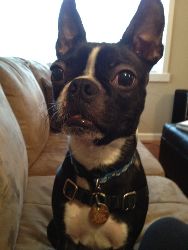 Nahmi

It took me almost 2 years to decide that I was ready to be a single dog mommy. The first time visiting the SPBR website, I came across Nahmi's profile and immediately submitted my application for adoption approval (which happened to be the week of Thanksgiving 2011). Much to my surprise I was contacted on Thanksgiving Day to arrange our meeting. I had my home inspection on Friday & adopted Nahmi on Saturday! I couldn't have been any happier!

Nahmi has some insecurity issues with strangers in his home, which is what led him to SPBR. His "issue" is tiny in comparison to his overall personality! This little guy is so loving & fun. He loves to chew, play tug-o-war, go for walks & kiss-kiss-kiss-kiss-kiss! He is also an amazing cuddler, and I can't get enough of his snorts & snores! This boy makes me feel like he loves & needs me, as much as I love & need him. I am still grateful everyday for having him in my life.

I'm looking forward to celebrating his 3rd birthday this August and I am considering rescuing him a little sister....

---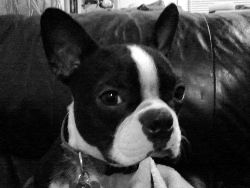 Benny is a 1 1//2 year old, 20 pound Boston. He was found chasing cars in Eastern Washington, taken in to a foster home with multiple dogs where he didn't get along with another alpha dog. Rescue was contacted to see if we could find Benny his forever home.

Benny is quite the little character - running in circles with a big grin one minute, snuggled up in our laps in a pile of blankets the next. We took him "rough around the edges", to an adult dog obedience class at Tails A Wagging in Bellingham. Benny did great and learned quickly. The trainer, who has seen a few Bostons in his day, said Benny was his favorite Boston ever due to his great personality!

Benny, John and I love to go on hikes, walk to the beach down the road, go jogging... Benny loves car rides, trips to the dog park, snuggling his stuffed bear, treats and toys, squirrels, and trying to get his kitty brother, Tie, to play with him. All of the "little" things that made it difficult for him in foster have seemed to work themselves out through training, attention and understanding.

Benny constantly amazes us with his goofiness, affinity to love, and his constantly emerging personality. His has become an integral part of our lives in a very short amount of time. Every time a difficulty comes up, we have to remind ourselves that it has only been 4 months with the little guy!

Thanks again to Seattle Purebred Dog Rescue for finding our friend. We have recommended the organization to every one we know who has mentioned wanting a dog. And specifically, thanks to Vicki for her personal involvement in rescuing Bostons.

Erin Dewey and John Gaikowski, parents to "Benny"

---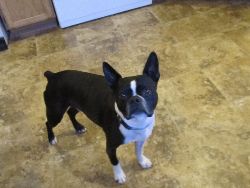 Beau is now 8 years old. He was raised by a family that did horse rescue. Beau's most favorite thing in the world was to chase the horses. He had been injured several times. The family was worried that he would be reinjured so, they called us to help find Beau a horse free home.

Beau now lives on a large acreage in the foot hills of the Cascades with a very caring couple. He gets to run all he wants to with his fellow adopted Boston brother Luke. He loves to lie in the sun and stretch out in front of the wood stove. But, Beau's most endearing quality is his love and devotion to his people.

Beau is one lucky dog! He will be having a special procedure to help ease the pain, from an old horse injury, in his right front leg. It is a new treatment made from the dog's own blood plasma. They will inject the cells into the joint where the cartilage is damaged and it regrows new cartilage. Best of luck to Beau!

---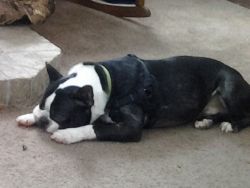 Luke took the long road to rescue. We were asked to help a stray dog that was on a web site from eastern WA. He was called Boston, was not neutered, and 9 years old. When we made the call he was gone. Two weeks later we were called by NOAH, a shelter north of Marysville. They had a dog from eastern WA with the same description. Only they thought that he as closer to 5 years old. It was Boston! We picked Boston up and took him to our vet. They thought that he was somewhere between 3 and 5 years old.

So, Luke is a 4 to 5 year old that acts like a 2 to 3 year old. He was a half starved stray from eastern WA. Luke is now totally healthy, has a clean shiny coat, and is full of life. He has gained about 4 pounds of mostly muscle and loves to chase the ball. He snitched away and claimed for his own entertainment, one of Georgia's hair curlers. He loves to bat it around and pounce on it. Luke loves to play with his Boston brother Beau and stretch out by the wood stove.

Luke went to the vet because he snored like an idling 750cc dirt bike with no muffler, and would stop breathing at times. He had a very oversized soft pallet that actually was blocking his airway. The vet trimmed it off two weeks ago in an operation that was about as bad as a tonsillectomy. The snoring is all gone and he sleeps all night and so do we.