These Bostons have found Forever Families in 2012 through BTRWW
Boston Terrier Rescue of Western Washington places all rescue Boston Terriers through Seattle Purebred Dog Rescue. Please see our Adoption page to see how to adopt a Boston Terrier.
---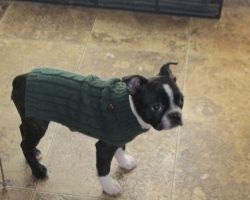 Howdy, just 13 weeks old, came into rescue when his new family became overwhelmed with the care and training of a new puppy. We almost never get dogs under a year in rescue!

Howdy was lucky enough to find a loving couple with lots of Boston Terrier experience. He now lives in the San Juan Islands of Washington state.

---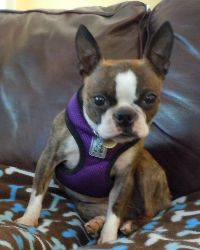 Lola

This is Lola! She is six, but so full of energy you would think she's a pup! Lola enjoys snuggling with her new family. She also enjoys playing and cuddling with her new brother, Derby, also a Boston Terrier rescue dog. Lola is a smart girl and pays close attention to everything that is going on around her. She enjoys road trips with her new family and watches out the windows with great interest whenever she's in the car. Lola has taken quite a shine to the doggy stroller she shares with Derby and can often be found curled up in it waiting for a ride. Lola is keeping her new forever family amused and entertained with her spunky personality!

Note: Both Derby and Lola were family surrenders by two different families living in different cities. After close examination of birth dates and where these two dogs were purchased, it has been determined that these two dogs are indeed littermates. What are the odds of these two puppies ever finding each other in their adult lives?

---

Poppi was a 10 year old 14 pound Boston. In her golden years Poppi has become less tolerant of young children and other dogs. She is a mellow little old lady.

Poppi found a home with a young couple in Seattle. She doesn't have to worry about small children or other dogs. Her favorite things are to snuggle and nap. She loves to play with her stuffed animals. She loves to go for walks and lie in the sun.

---

Arnie was a 25 pound nine year old Boston who came in as a stray from southwestern WA. He was a mess! He had an eye infection with ulcers, an ear infection, worms, skin issues, and an infected ingrown tail. He seemed to prefer men, loved to play with his toys, and was quite a cuddler. He was in his foster home for about three weeks. He was neutered, had his tail amputated, and his infections cleared op. He was ready to go to his new home.

Arnie is a lucky dog. He found a home with a retired gentleman. He loves to go on long walks, riding in the car, playing fetch, and biting the water coming out of the hose. When I am reading and Arnie wants to play, he will push his head up under my book as if to say, "Time to stop reading and play ball!"

Arnie loves to be loved and gives love in return.

---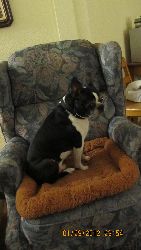 Porkchop is a 8 year old, 25 pound, fun loving, playful Boston. He came into rescue because he was having a difficult time adjusting to the very young children in his home.

When Porkchop moved to Wenatchee, WA, he became Turbo. Turbo is always happy and loves to be with his people wherever they are. He loves to cuddle and sleep under the covers. He is very playful, likes water and loves balls!

---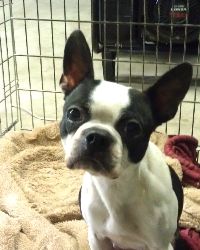 Sally is a 1 to 2 year old Boston. She was found as an emaciated stray in Pierce County. Lucky for her a family finally caught her and began nursing her back to health. They couldn't keep her and wanted her to have a home that knew about Boston Terriers. The Good family was selected to be Sally's new home.

We had Albert, a male Boston Terrier, for almost 16 years and he passed away back in October. We were not going to get another dog but, we missed that special companionship. We filled out an application for a rescue dog and were thrilled to get the call asking if we would be interested in adopting a little female Boston...and the rest is history!

When we first brought Sally home she was very thin and very timid. As you can see from her pictures, she's settled into a normal daily routine, has gained two pounds, and is really beginning to take ownership of the yard, the porch, and her bed! She's even gone to Home Depot with us. :)

We feel like Sally is such an inspiration because she has come such a long way in a very short time. It seems like everyday she's stronger, more confident, and becoming a great companion.

Thank you all so much for taking the time to make sure Sally made it through all those difficult (who knows what) times! She's a true joy and we are so glad to have her as part of our family!

---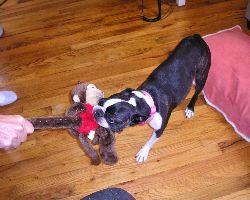 Lulu is a 15 pound, 6 year old, spayed Boston Terrier. She came into rescue because her family was moving and they couldn't take her with them.

Lulu found her forever home in Lakewood, WA. She had a lot to learn with her new dad. She lives in a beautiful home with a big fenced yard. Lulu now has a new best friend named Emma, a Boston Terrier that lives in her neighborhood. They go on walks together, have play dates, and sleepovers. Bubba is another friend of Lulu's. He is a Shietz Tzu. He spends a lot of time at Lulu's home playing with her.

Lulu has many favorite things. She loves to lie in the sun and roll in the dirt. She has fun splashing around in her little doggie pool to cool off on the hot days. Her favorite game is tug of war. She loves car rides and sniffing new places. Lately she has been helping her dad pick their cherry tomatoes . . . red or green, it doesn't matter. But best of all Lulu loves cuddling with her dad.

---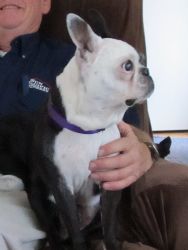 Blake is a 12 year old, 19 pound, gentleman. He came into rescue as a stray that couldn't see or hear very well. Because of some other health issues he stayed at the shelter for two extra weeks. No one came looking for him.

Blake is now living in our rescue home. He fits right in and is a joy to have. He gets along with everyone. He is still kinda feisty. I bet he was a terror when he was younger.

Blake meets everyone who visits at the door with a toy. He plays a mean game of tug and loves to go for walks. But, his favorite thing to do is sit in the sun. He makes us smile everyday!

Vicki & Al

---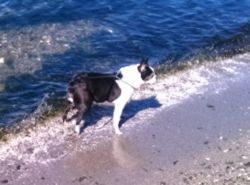 I adopted Stella (then known as "Gabbie") from the Tacoma Animal Shelter on April 14, 2012. I was told that she had been picked up as a stray. I had seen her on the shelter's web site and then heard from Boston Terrier Rescue that the shelter would not release her to them. She was listed as a Boston Terrier but is likely a mix due to her body structure and her pointy nose. They initially listed her age as 10, then raised it to 12 and by the time I got down there from Seattle, they decided she could be 14. Actually, 9 or 10 is most likely, according to my vet. She had lost an eye (don't know why or how), but the remaining eye seems to be healthy, She was a bit chubby and seems to hear nothing at all.

Stella has lots of energy and loves to go on walks, which is good because I have been trying to get her to lose some of the excess weight. She has a heart arrhythmia, so I need to watch her activity level somewhat. I live near the beach and she likes to wade in the water. She has a stubby tail that she wags when she sees me. She sometimes does some robust snoring, which makes me smile. She likes to ride in the car, which is good because I frequently drive to spend time at a house in Arizona and take the dogs with me. She came to live with me and an older terrier mix, Millie, that I had adopted in January through the Seattle animal shelter.

---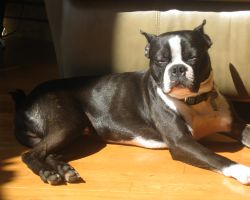 Mugsey is a 3 year old neutered Boston. He came into rescue because he kept bolting out the front door. Lucky for him he found a loving family in Pacific, WA that he doesn't want to run away from.

Mugsy is very playful and smart. His favorite things to do are playing fetch ( after much practice he will bring the ball back!) running and lying in the sun. He loves our Grandchildren and long walks. One of his favorite places is Hood Canal. He also loves to snuggle on the couch in the evening and we snuggle him right back! We are still working on his social skills and issues with meeting other dogs and some people, but he is a part of our family and we love him even with his problems. No one is perfect and we are a family and we will not give up on our little friend! We have had Mugs for almost a year now and he is definitely a part of our pack!

Thank You to Vicki and Al and all of the hardworking, kind and dedicated people that make rescuing a dog like Mugsy a possibility. Without good people like you we would never have met our dear little friend!

Sonny, Garnet & Mugsy Rudolph

---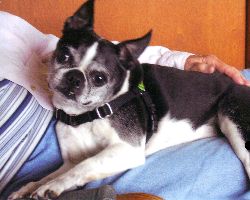 Buster joined our family on May 12, 2012. He is 8 or 9 years old. He is a sweet, gentle, black and white Boston Terrier that weighs 20 pounds. He has been introduced to pets belonging to other family households and blends in very well with them as well as strangers' pets. We love Buster in our family. Thanks to Vicki & Gerri who took the time to find the perfect match for me! Buster is my second rescued Boston Terrier from Seattle Purebred Dog Rescue.

Buster's favorite toys include a deer antler chew, and any soft animal shaped toy that squeaks. He loves to travel in the car. Just say, "car ride!" His ears perk up, his head tilts to the side, he's is running to the car in the basement and wanting to get in his car seat and get buckled up! The Bostons walk well together on a leash for two and play together outdoors in a fenced dog run.

We all have chores around the house, Buster's is "squirrel patrol". His warning bark sends the squirrels leaping off the deck back to the Hazelnut tree they came from. Buster is an avid fan of dog and animal TV programs, a loving companion dog and freely shares "Boston Kisses" whenever he gets the opportunity. Buster loves his sister Peanut, also a rescue through SPDR! Peanut is officially my son, David's Boston. So now we have the Peanut-Buster Parfait!!

Thank you to SPDR and all the volunteers for the TLC they so generously give to the rescued dogs and to the new owners of these precious pups.

Guyneitha Clausen

---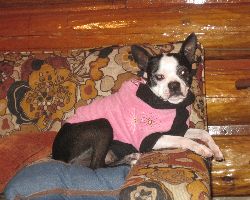 Gracie came into our lives in May, 2012 after being found running loose with two other dogs. She was emaciated, frightened and had zero self confidence. I got the call from Vicki Brunell while I was literally driving over the Seattle 520 bridge. She asked if I was driving, and I said yes. She said she had great news but I had to promise not to cry since I was driving! I promised, she gave the news she had a dog for us and, I of course, started crying!!! There is NOTHING like having a Boston Terrier and we were still reeling from unexpectedly losing our Maddie back in January.

Gracie waltzed into our lives with a boat load of issues; starving, not housetrained, horrible skin, worms, no clue on appropriate behavior and scared out of her wits. With us already having another Boston, Bonnie, and a Golden Retriever, Katie, she really was beside herself on what she should do. It only took a couple of days for her to latch onto me as her savior and mommy. She adores me. We ended us having a dog trainer come the second week we had her due to her inappropriate behaviors. Within an hour, we had the tools and hope that this really could work out. Gracie responded beautifully to the love and guidance of what was expected of her. She is stone deaf, but, so is Bonnie, so it was relatively easy to adapt her to what hand signals we used for Bonnie. Katie, the Golden, is their "hearing aid" dog and both of the Bostons take clues from her on what is going on and how to respond accordingly.

Gracie is now a confident, well adjusted girl with all her manners and acceptable behavior including complete housetraining. She LOVES her toys, especially the Kong. She is obsessive over tennis balls, so they are given on a limited basis. Her absolute favorite thing to do is burrow under the covers for snuggle time. She does well with both other dogs, yet, the play with each is so different. With Katie, there is lots of wrestling and biting and roughhousing with Gracie on top of Katie most of the time. With Bonnie, there is no touching at all, just a goofy dance/hop they do around each other with lots of barking and verbal exchange. It is so funny watching the differences in how they play.

Grab the leash and Gracie is beside herself with excitement. She loves to go for a walk. She has filled out nicely from her original 14 ½ lbs. of scrawny skin and bones to a hefty 21 ½ lbs. of shiny, sleek coat and muscle. Food is her passion! Treats are heaven to her.

Gracie has worked her way into our hearts. It was not 'love at first sight" with her, as it was with our other Boston's. Gracie took longer to win us over. Yet, we are pushovers when it comes to this breed and we can not imagine our household without her now!

---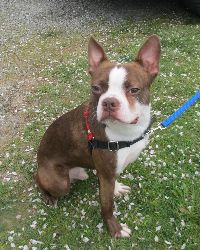 Hugo quickly became "Buddy" and that is a true description of his personality. The first night he gave LOTS of kisses and began to learn how to navigate around our crabby Westie, Cassie. From the beginning he slept quietly in his crate and waited patiently in the morning for us to get up. He rarely let us out of his sight, including sitting in the back of the shower. He is always a gentleman, and it is obvious that his owner, Ben, loved and trained him thoroughly.

Buddy does tricks, stays when you tell him and hasn't met a ball he doesn't love to chase. Everyone (including our kids and grandson) love Buddy. He gets us off the couch when we'd rather sit and keeps dropping toys in our laps until we stop and play with him. He loves water and has a Sponge Bob sprinkler that always surprises and delights him. He should be listed in the dictionary under 'joie de vi vre'.

Buddy has brought much joy and love into our home, and our Westie lets him pull her around the house while she is sitting on a blanket (free ride!). I expect that we will have many happy years with Buddy and would highly recommend anyone that can - to foster - or adopt (and not buy) a dog.

Dick & Dianne Dobson
Cassie & Buddy

---

For about fourteen years we had two Bostons, Winston and Ugh. Winston was a native Oregonian and Ugh was a rescue from the SPCA in Virginia, When Winston and Ugh passed on we went without a dog for about a year. Then we found we really missed having a dog so I went on line to look for a Boston Terrier Rescue organization and found the Boston Terrier Rescue of Western Washington.

On their web site I saw two Bostons, a brother and sister who needed a home due to their former masters change in her work situation. The Bostons were named Genjii and Momo, Japanese for Prince and Peach. They were ten years old and were available immediately. My wife liked the looks of Genji and Momo and the age was a good factor for us since we are elder citizens.

After agreeing that Genji and Mom looked like a likely pair for us to adopt we applied to Western Washington Boston Terrier Rescue to adopt Genji and Momo. Fortunately for us, we were quickly checked out and found to be suitable owners. Once cleared for the adoption we quickly went to Vicki and Al's home and picked up Genji and Momo. The pair were absolutely wonderful. They were very happy to come with us and have adapted beautifully to our home and life style. They are like all Bostons, they love people and want to be with them all the time. Genji and Momo go with us almost every place we go and they love to ride in the car. They know when we are getting ready to go some place and patiently wait to be asked. Once they are told OK they race for the door.

Genji loves to play ball and I spend a lot of time throwing a ball for her. Momo would like to play but he has a problem getting the ball in his mouth so it is not his favorite pastime but Genji will play for hours if I can last. We have a deck just off the family room and Momo loves to go out there on sunny days and bake his old bones while Genji likes to go out and explore the yard and talk with passing dogs who go through the alley behind our yard. Momo's favorite pastime is to talk with the dog in the yard next to ours. I am sure he is telling that big Lab who is boss in this neighborhood.

---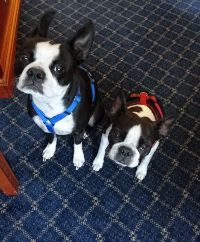 Boomer & Zoie's Story

Boomer and Zoie are 7 1/2 year old littermates. They lived their entire life with a devoted owner until she became ill. When she could no longer care for them, they found a wonderful home where they could stay together in Gig Harbor, WA.

Adopting adult dogs is a new experience for us. We have always had pugs and always started with puppies previously. Bostons are so different than pugs. Giving adult dogs a new home is satisfying. You have to earn their trust because the dogs are not bonded with you in the same way as when you get them as pups. It is exciting each time they develop a new of trust. It is fun when you involve them in an activity that they have never done before (like boating or kayaking).

Boomer and Zoie love the car. They go to work with Sanford at least once a week sitting by his office window watching the activity go by. They love the boat when it's warm. They enjoy nightly walks. Boomer especially loves to play fetch.

They make us smile when we watch them eat. It's pretty funny how quickly they polish off there food and at bed time because they are so cute when they curl up together in there blanket which of course is on our bed (this is only at night in the day they don't snuggle). We have never had dogs on our bed before but, for some reason they just fit right in. We love it when they are so alert there little ears can actually touch tip to tip. They are great with company now, very little barking, they still feel the need to "show off" with a toy when anyone comes in the door, but it's pretty cute. They bring a smile to our grandmas every time they visit as well.

We feel good about going the adoption route this time when choosing new dogs for our home. We love to tell new people Boomer and Zoey's story. We are glad Boomer and Zoie have come to live with us.

---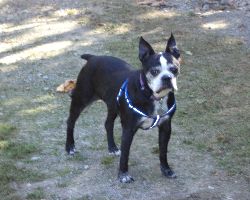 Hi, my name is Clyde and this is my story.

I grew up in the Spokane area of WA with my human mom and my best doggy friend Bonnie. I had a good life with them and we all grew old together. One day my friend Bonnie died, and then my human mom died, too. There was no one left to care for me so I went to live with a relative. She tried to care for me, but she just didn't know how and after a year she took me to the Spokane Dog Pound. Ms Vicki saw my photo and called my new human mommy and she said, "I know you like the little old men". She saw my picture and she was hooked!

So, I caught a ride with Paws Across the Northwest all the way from Spokane to Redmond, WA. Ms Vicki took me to the vet and I had to have all but 2 of my teeth pulled out. My new mommy came to get me with Ms Vicki. I was still groggy from the anesthesia. I said goodbye to Ms Vicki and rode in the car for over 2 hours to get to my new home.

I live in the country now with my new mommy and daddy, and a new Boston friend Abbie, plus Charles the Chihuahua, Patti the Choc. Lab and Rupert the Mountain dog mix.

My mom and dad are always talking about how I don't act my age. I'm 13 years old, but I can run really fast. I especially like to run right past my mom and dad and look at them over my shoulder as I'm going past! I go on a lot of walks every day. My dad stays home with us during the day and I love to be outside sniffing, rolling and running around in the huge yard. When my mom gets home I ask her right away to take me out on a walk! My mom and dad found out that if I don't get enough exercise I can't settle down at night to sleep and I keep the other dogs up. When I am sleepy and relaxed I poke my tongue out. Then mom and dad know I'm ready to settle down.

I also like to take Abbie's tennis ball away from her, get into Pattie's dish while she is eating and jump on laps without warning! I always get forgiven and Patti washes my face for me.

Doctor Amy says I have gained almost 4 pounds since I moved to my new home. I weigh 28 + pounds now. All my tests show I am in great health. As soon as the weather turns bad I have to have one more surgery to remove a growth on my leg. Right now it isn't bothering me and I have so much playing to do outside. When it is pouring rain again I won't mind staying inside for my recovery.

They say I have selective hearing because I don't pay attention when I am playing and they call my name, but I can hear the treat bag in the kitchen just fine. I also tell my mom and dad when someone is coming down the driveway.

My most favorite things to do are ride in the car, being on someone's lap, running as fast as I can, and smelling things outside and rolling in it.

My face is grey, I have lived a lot of years, but I am going strong and enjoying every minute. I feel so good knowing I won't ever have to move again.

Clyde

---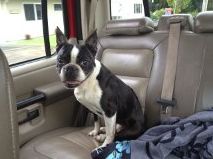 Stanley was rescued off a busy road in the middle of the night. Even after posting his story on Craig's list, no one came to pick him up.


---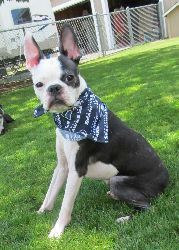 TOBY

My name is Toby and I am about 2 and a half years old. I must have had a pretty rough start because I came into shelter care all bones and no fat having been rescued by some kind soul. I am also little for my breed but my bark is BIG. Since being with my forever family, I have gained the amount of weight my new doctor wants me at. I had to stay in foster care with the Brunell's to get well enough to be adopted and I owe a big thanks to them.

I have a large extended family who think, I am one lucky dog. My forever home has a king size bed that I can burrow in and I am not an early riser. My people get up around 6:30 am and I prefer 9:30 am. I arrived with several skills and return on immediate command when faced with a deer or a raccoon. Most days I go to work in an office where I charm clients with my cuteness. I also got three grandkids who love me and share their coon hound with me. She bays and I bark and yodel. We often are sent to the backyard to do our "music".

All in all, life has been good....no crates...no short rations....just plenty of everything. Without Boston Terrier Rescue, I am not sure if I would be here today. Thank you again.

Toby (sometimes known as Toby Wan Kanobi)

---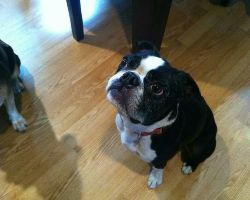 Oscar

Oscar was a 5 year old neutered Boston. He came into rescue as a family surrender. They had too many dogs and this dog was being picked on by their other dogs.

Oscar was adopted by a loving family in Lynnwood, WA. He was very smart and loving. He began to have seizure like behavior after a few weeks. They were having a hard time getting these behaviors under control. After two months of working with several vets Oscar was returned to rescue.

After another week of tests and med changes it was noticed that Oscar was becoming more and more aggressive toward other dogs and people. Due to the escalating aggression and poor quality of life the decision was made to put Oscar to sleep.

---

Sammie

I was fortunate to acquire Sassy, who I renamed Sammie due to the love, caring and hard work of the Boston Rescue Terrier group. I was looking for a companion and I found one in Sammie. She is a delight and makes me laugh every day. She will grin at me and make funny faces, is very loyal and a wonderful dog.

Sammie is 7 years old. She loves to go for long walks and is very curious and friendly. She is a licker, and will lick anyone. She loves to sleep under the covers and will follow me from room to room to see what I am doing.

I take her everywhere and I highly recommend the Boston Terrier Rescue group.

Thanks, Ron

---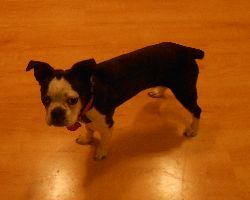 Kylee is now about 9-10 months old. We received a call from the Boston Terrier Rescue group that someone had dropped her off at Animal Services & sight unseen we just knew she was the one for us. She is full of energy & personality. She has made one of our blankets "hers". It is always with her - indoors. She is told "bed - get your blanket" and she pulls the blanket up the stairs to bed. She loves to play, be chased (around the yard of course), run & think she will win at a game. She is protective of us & doesn't like it when large neighborhood dogs are walking around the neighborhood (she thinks she's the boss & bigger than they are - silly girl). She loves her treats & she absolutely hates the rain.

We have 2 ADHD "kids". 1 that is 16 & 1 that is 12, so I guess I actually have 4 ADHD kids. Two that are 2 footed & 2 that are 4 footed (we also have an 9 month old orange tabby). No drama or craziness in our house. Don't tell Kylee but Sunshine actually rules the house.

Chris & Paula Cunningham

---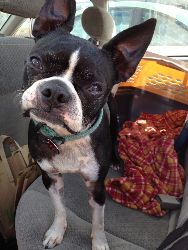 Tokyo is a 7 ½ year old spayed Boston. She came into rescue when her owner was transferred to the mid west and was going to have to travel for her job. She wanted Tokyo to have a more stable life with a family.

Tokyo is a great dog. The first time we met, she ran up and licked my face. That's when I knew she was the dog for my family and I. A sweet dog who was a bit aloof; Tokyo in time warmed to her surroundings and the entire family.

Initially, "Toki" slept in her kennel and utilized it as her "safe place". She was unsure of the rules but, slowly began to jump on the bed and a few times would sleep there. Now she has multiple dog beds and places to sleep! While living in Washington, she loved going for walks, sun bathing and staring at "Rocky" the local backyard squirrel.

Toki spends her time with our other Boston, "Louie". Toki is seven, Louie is ten, and they make a great pair. Toki is currently in Arizona, living life as a "snow dog". Toki spends half the year in Arizona and half in Washington. She has adjusted quite well to both environments and is curious about everything. Initially, Toki was frightened of the local military base jets that would fly over the house. Now, she understands what the noise is and her fear has subsided considerably. In Arizona, Toki loves to swim, lounge around the pool and go for walks. She is very social and had a great time greeting and playing with the entire family of fifteen over the holidays.

Toki is special. She has grown and adapted wonderfully. Her anxiety has lessened and we have been able to decrease the amount of Prozac she is on. She is so curious about life and everything around her. We have been able to leave her home with Louie and she does very well. When we come home, she'll bounce around as though it's been ages since she saw you! Toki is also very helpful with my father, who is hard of hearing and legally blind. Toki has learned to alert my father when the phone rings or his alarm goes off. When this occurs, Toki will run up to my father and pat him with her paw! She is so intelligent and amazing! In the six months we have had Toki, she has grown to be an important part of our family. We are truly thankful for the Seattle Purebred Dog Rescue/Boston Terrier Rescue, as Toki is such a blessing.

---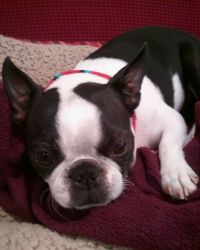 We'd made the difficult choice to put-down our 12-y/o Boston, Maggie, on July 20th. While we had not planned on looking for another, we found ourselves missing the presence of a furry friend. So, on a whim I did an internet search for a Boston Terrier Rescue and came upon the Western Washington Boston Terrier Rescue and completed an online application on August 10th (my birthday!), despite the fact that we live in Gresham, OR. I truly did not expect a quick reply. But, on August 14th, we received a call from Vicki, telling us about a Boston in Sherwood, OR who was in need of a new home. Sherwood, OR is lots closer to Gresham than the Seattle area; so this seemed promising! Despite the fact that Lily's "1st family" loved her dearly, they'd realized that she would be much happier in a home with adults, only, as Lily had a difficult time with the constant activiity in a home with busy children and their friends.

Contact was established between the present owner and ourselves, including visits to one another's homes. Not only did we fall in love with Lily, but we found we very much enjoyed her "1st family" who desired to remain in contact with her. Lily came to us over Labor Day weekend this year. And, she has become our delight! As we are Oregon Duck football fans, her "first family" has welcomed her back to their home for three overnights this fall while we have attended games in Eugene. And, her "first family" had an early Christmas visit with Lily in our home. We expect these visits to continue and Lily is very fortunate to be loved by two families in this "open adoption" arrangement.

While our Maggie was a tomboy, Lily is a delicate girl. One of our affectionate names for her is "frilly Lily!" Unlike most Boston's, Lily does not have snoring/snort or gas issues! (Aren't we lucky?!!!) She loves to sleep with us and snuggle under the bed covers. She enjoys receiving "raspberry kisses" on her belly and freely shares her kisses with us. As I am retired, she is my companion throughout the day, following me around the house and riding with me as I complete errands. She loves to go for walks in our neighborhood and to the nearby park. And, her favorite perch is on the back of the sofa positioned by the front window of our townhouse, 10 feet from the sidewalk. She dutifully keeps watch over our safety, alerting us to outside activity. As well, she likes to play with her plush toys, chew on bully sticks, and play fetch. Sum total, we are blessed to have Lily in our "empty-nester" family. Both families, the giving and receiving, are confident that God orchestrated this deal, watching out for sweet Lily.

---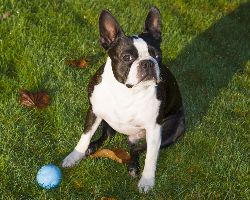 Rocky (Chebon) has enriched our lives since we welcomed him into our home in September 2012. We originally met him during the dog show in Seattle last winter. We had been reading the Boston Terrier Rescue Site on a regular basis after the passing of our third dog, Ethel in December 2011.

We had three Boston's since 1996. We fell in love with the breed with Ricky and Lucy, and brought Ethel into our home 3 years later. With the emptiness we felt without a Boston in our lives, it was decided we couldn't live without another dog.

Rocky was brought to our attention by Vicki. She visited our home and felt we were perfect "parents". We initially hesitated, but then realized he was the one for us, and welcomed him in to his forever home. He is definitely a high energy 5 year old! To say he loves chasing a ball is an understatement. He loves walks and enjoys car rides in his car seat, is a good eater, and does not beg, but lies patiently near the dinner table until we are finished. He snuggles under the covers or next to us for a chair nap. He is loving, affectionate and very playful. Vicki said the black spot on top of his head is his "on-off button", and we find it is usually in the ON position!

We love him dearly and are grateful to the Boston Terrier Rescue group for their compassionate work in saving these wonderful dogs and providing them with new, loving, welcoming homes. Chebon is now called Rocky which seems to fit his masculine bravado. We also thank the former owners who chose to seek a kind alternative when they could no longer care for their pet.

Art & Lindy

---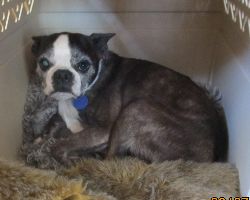 Cricket & Ginger

Cricket, 14, and Ginger, 13, came into rescue when their owner had to go to a nursing home. They had been together all of their lives and we were fortunate to find a retired Boston Terrier breeder that was looking for a companion after his Boston had passed away.

Cricket was the out going one. She loved to snuggle and was everyone's friend. Ginger was very shy and kept to herself. With in the first month Cricket developed a cough that she couldn't shake. Even with the vets help the cough hung on and Cricket passed away.

Ginger has really blossomed since loosing her friend Cricket. She has become more playful. She is now snuggling with Don and even sleeps with him in his bed. She is crazy happy to see him when he returns from running errands. Ginger has found her best friend!

---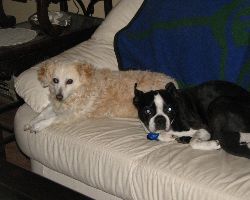 Arlus was a 10 year old neutered Boston. He was picked up as a stray in the Olympia area. When he came in he was in pretty bad shape with many old dog issues. . . bad teeth, bad heart, bad eyes, bad skin, and very skinny.

In just a few days Arlus's story was heard by a long time member of the BTCWW. She had in the past take older dogs and given them a warm loving home. He had landed in the best possible place for an old guy.

Arlus fit right in at his new home. He soon had a best friend that he hung out with. He was either buried in blankets in front of the fire, in a pile of toys he had stolen from all the other dogs or running and all you would see was his bum!

Arlus had four wonderful months in his new home. . . the best four months of his life. It was discovered that he was also deaf and that he had cancer. Arlus crossed over the Rainbow Bridge on December 28th, 2012.

---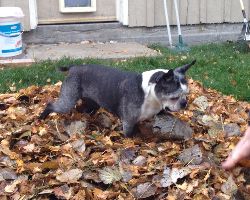 Hannah (i.e. Hannah Banana or Nanny) has been nothing but a blessing since she came into our home. We were expecting an older, ill dog who needed some TLC to get her back into shape. We were so wrong! The day we picked Hannah up she didn't feel her best as she had a respiratory virus that had turned into a bacterial pneumonia and had very severe corneal abrasions on both eyes. However as she recuperated we wondered what we had gotten ourselves into! She loves to play ball, chase leaves you rake and be covered in snow as you shovel. Oh, and apparently she is a water dog! Watch out if you have a hose she won't leave you alone!

Hannah has had to have an eye removed as the corneal abrasion on her right eye went on to be a major problem and source of pain for her. Hannah is doing great! Her surgery went fine and she is like a new dog. Took her a month or so to get healed up and get use to using her other senses, but she can find a ball with the best of them! This loss has not been an issue for her as she continues to do all the things she loves!

Hannah is a wonderful little dog who has fit in to our family nicely. We recently rescued a young Boston who was in rough shape. Hannah is his constant tug of war buddy! Thank your for bringing her into our life! Our family is complete!

---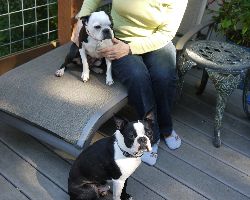 Millie & Angus
We adopted Millie and Angus on Sept 15 of this year. We were sure that we wanted to adopt a Boston Terrier and after some research found the SPDR and submitted an application. Much to our surprise, we ended up adopting two, as they had been living together prior to being given up.

Millie & Angus's owner could no longer care for them. Millie is 7 years old and is a real snuggler. Her favorite things to do are to sit in your lap and burrow under the covers. She also enjoys walks and car rides. She can dance on her back feet, and knows sit, down, and roll over.

Angus is an active 2 year old and loves to run, play fetch and wrestle with Millie. He is very athletic and will run circles around the house bouncing up and over the furniture. He greets Ken every night by jumping into his arms.

They seem to love everyone they meet, from my elderly father to the grandkids to just strangers they meet on their walks. We fell in love at first lick, so to speak.

Ken & Julie

---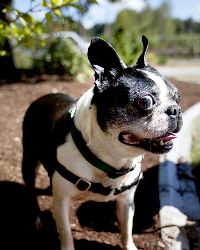 New adopted 6 year old Boston Terrier, Cookie
by George and Maria VanAchte

Cookie, now Zack, is a 6 year old neutered Boston. He came into rescue because his family didn't have time for him. When he came to rescue from the shelter he had a bad cough. With in a few days he had a serious case of pneumonia.

A neighbor gave us a phone number for an adoption agency of Boston Terriers. Her name is Vicki, a very caring lady. When she got Cookie he was sick. She nursed him back to health. He has adjusted very well and quickly to his new home--even letting us know he likes garbage cans :) He needed some scolding to curb that.

Zack has his own chair between George and Maria's. His favorite chair is Maria's--she even gives it up for him sometimes. He likes to be loved and petted by his new parents. He is a talented guard dog. He has very sharp hearing. He responds to Zack and a soft whistle. The kids next door came over and helped George build a fence for him.

His favorite thing to do is to sit with George in his workshop and to go riding in the truck or car. He loves to eat just about anything. George takes him for many walks, which he loves. Zack is a great fit for our family and we are happy to have him. Thank you for matching us with him!

Maria & George

---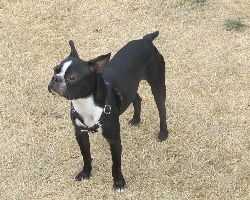 Prince Harry

Harry came into rescue as a family surrender. He was picked up by another rescue but they were unable to raise the funds to have his eyes fixed. That's where we cam in. Harry had the surgery to fix his cherry eyes. After he recuperated after his surgery he was adopted to loving gentleman in Tukwila, WA to become a service dog and be the prince of the house.


---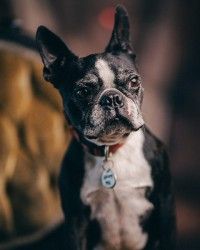 Spanky is a 6 ½ year old male Boston. He weighs just 12 pounds and was surrendered by a breeder in eastern Washington.

Spanky and I are doing great!! He is very affectionate. He is bright, alert, and very active when it is time to go out for our walk. Whenever I sit down he's right there curled up beside me. When it is time to sleep, he pulls his blanket over until he is completely covered. At night he sleeps under the covers at my feet!

We are best friends!

Joan

---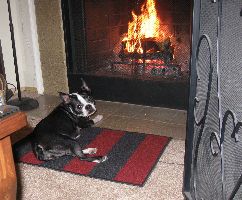 Esther is a 15 pound, 5 year old Boston. She came into rescue because her owner had a change in her job and she could no longer care for her.

Ester came to us in November of 2012. When we 1st saw Esther's picture we thought she was absolutely adorable and were anxious to meet her. We made the trip to Vicki and Al's in Redmond and immediately fell in love with her. Esther had us at the 1st lick, and by the end of our visit we were ready to take her home.

Esther is full of energy. She loves playing fetch, and loves when our son Bryan visits and brings his two dogs Buster and Mini (both Boston Rescues). When not trying retrieving a ball, Esther likes to watch me cook and she can't get enough daytime television. When 5 o'clock rolls around, Esther is at the door waiting for Dick to get home from work. We are so glad that Ester found us.

Linda & Dick

---
---
---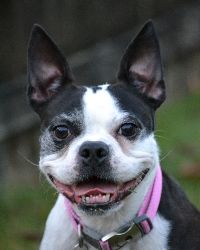 Layla

We came to live with 6 year old Layla in mid November. She came into rescue because she didn't get along with the roommates dog. We met Layla and her owner in the dog park in down town Seattle, and from the start she just "fit" with our family. Layla has a SMALL (OK HUGE) ball obsession and we need to limit her ball time. I think if she had a good game of fetch going with her tennis ball, it could be raining steaks and she wouldn't notice. We get her out to play rain or shine, because if we don't she gets a little pushy for our attention. Layla loves our kids, and has learned to wake them up and tuck them in at night. She is never far away from us, and doesn't need her leash out of the house. Her favorite thing is to go to the school to pick up the kids and get to play ball in the big field. She has added a wonderful energy and lovingness to our family.

April and the Gang

---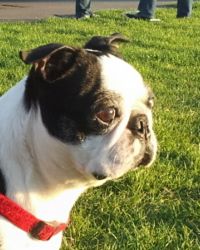 Makoa is a 22 pound, 9 year old male Boston. He came into rescue when the new baby, in his family, had a sever allergy to him. Makoa is the luckiest Boston in Seattle! He found a home where the family was willing to work with him and his alpha personality.

Makoa is a rascal. He climbs like a monkey and is as stubborn as a "terrible two year old". He has yet to figure out how to get up on the kitchen counters, having fallen into the recycling box several times, but he keeps trying. He starts the night on our bed with our other Boston, Tucker. Then he leaves to sleep on "his" chair, returning at 0500 when the timer light comes on.

Makoa's new mama thinks he is one "ugly boy" and his new papa coos to him, "you handsome dog". We love his spirit and his rumpled face. He keeps trying the alpha poses with Tucker, but the two often find themselves playing rather than fighting. He will be ours forever.

---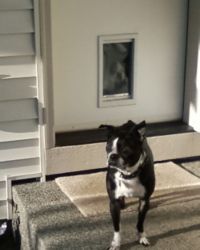 Meet Cole!

This fall we adopted Cole, a seven year old Boston. He came into rescue with a very bad yeast infection. His owner had fallen on hard times and was unable to provide the care that Cole so badly needed. He surrendered him to BTRWW knowing that they would get his condition treated, and find him a good home. We had recently lost a very, loved pet, and were looking to bring another fur baby into the family. We already had June, a small 10 year old Boston girl, and felt that another adult Boston would be a good companion for her.

Cole with his adorable under bite is such a character! He loves toys, treats, running in the yard, being cuddled, and covering himself with a blanket. I watch in amazement as he flips up a blanket and completely covers himself to take a snooze. It took him three weeks to figure out the doggie door, but is now zipping in and out. Cole and June are getting along well. I love the Boston leg slap game they play! We are so happy to have Cole as a member of the family.

Claire & Marv

---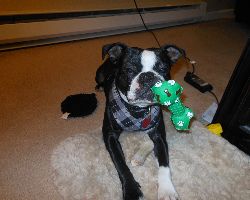 Meet Bentley!

Bentley is a 1 ½ year old male Boston. He came in rescue when he was picked up as a stray in the Tri Cities. He was brought over to Seattle to be fostered by a loving family. He had a terrible case of mange. He was also a very alpha male and was fighting with the foster's Boston. We were lucky enough to find an only dog home for him.

We can't tell you how much we are enjoying our life with Bentley! He is such a character. We have the good fortune to live in a neighborhood with a park and small lake. Bentley loves going for walks around the lake. It is exactly a one mile hike if we make 1 lap around the lake. Weather permitting; we make two trips a day.

He graduated from obedience classes and is doing pretty well. Bentley loves playing with his toys, going for walks and car rides; He's a very happy boy! The vet took a scraping and he is clear of all skin disorders. We feel so lucky to have such a great pal -- he keeps us smiling...and laughing!

Linda, Darrell, & Bentley

---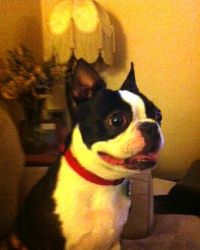 December1, 2012, Tom and I went to the BTCWW Christmas Party in Kent, WA. During the general meeting, Vicki Brunell got up and announced she had a lovely female Boston, 7 years old, that needed to be re-homed to a family without small children. The dog had bitten a 6 year old who had cornered her and tried to pick her up. We continued with the meeting and celebration and I did not think about her announcement again.

However, something had struck a chord with Tom when he listened to Vicki's announcement. The following morning he said "You know what? You should call Vicki and check on that little dog." "Are you sure?" I said. "Yes, if she bit a child no one may want her and I feel sorry for her, because more than likely it was the child's fault". Tom and I had two Bostons already- mother and daughter named Peaches and Miney. Every time I left the house for a puppy match, dog show or to see someone's puppies Tom would always remind me: "Remember, TWO". Because I had wanted to get a third Boston some time ago and he was not willing, he always reminded me 'only two'.

Well, I called Vicki and before we knew it we had driven up to her house and were sitting in her living room. We had not even seen a picture of the dog. Then Miriam and her daughter Eleanor walked in. Miriam was carrying the most adorable Boston in her arms and the poor little thing had such a frightened look on her face. We spent the next three hours getting to know Tanagra, Miriam, and Eleanor and they got to know us. We had also brought Peaches and Miney and eventually brought them into the house so we could let them get acquainted too. Finally, Miriam was able to let go of Tanagra. She and Eleanor had a very tearful goodbye hug with Tanagra and then they were gone. My heart broke for both of them; they really didn't want to lose Tanagra, but could not risk another biting episode and Miriam was not always home to oversee activities in the house.

We then realized we would be taking Tanagra home right then and there. We were not all that prepared. We gathered up the dogs and put Peaches and Miney in the back seat of the car and I carried Tanagra in a blanket. Once home, we organized. We knew Miney was having some jealousy issues. While we both were gone to work for the next few days we decided to set up a baby gate and keep Peaches and Miney in the kitchen and Tanagra in the living room. From the kitchen my dogs have access to their own yard via a doggy door, which Tanagra did not know how to use. Here is a brief log of our experiences after bringing Tanagra home:

" Sunday: First night in her new home. We set her up with a little bed and her blanket. She would have none of that. She followed me into our bedroom, plunked herself down between our pillows and snored in my ear all night. Peaches used the new bed and Miney was under the blankets behind my knees. I found out what a pretzel feels like. " Monday: Things went well with the baby gate. We got home from work and rushed Tanagra out to do her business. No worries. We also decided we will call her Jamie and off we went to get her a rain coat, a red rolled leather collar and ID tag. " Tuesday: Things did not go so well. Poor Jamie had an accident, but no worries- we cleaned it up. I bought a Spot Bot carpet cleaner and used it. It works extremely well; I now have light beige polka dots on my carpet. Oh well, it needs replacing very soon. " Wednesday: We came home to find Peaches in the living room with Tanagra; Peaches had easily jumped the baby gate. Miney was still in the kitchen. " Thursday: We came home to the baby gate down on the floor and all three dogs in the living room. I rushed Jamie out to pee- and nothing. I looked everywhere but found no accidents. Five minutes after coming back in with her, she looked at me over her shoulder and went out the doggy door. She had figured it out, clever girl. " Friday: We held our breath and left them all together with no baby gate while we were at work. We got home to three happy dogs and knew we didn't have to use the gate any more.

Little Jamie is such a wonderful addition to our household, and every day there is a little special something else I learn about her or from her. A few weeks after moving in with us, Miriam mailed us Jamie's bed and a cute crocheted black sweater with a red rose on it. Jamie lit up when she saw the bed and lay in it forever when we put it down for her. At one point Miney got into it and defiantly sat staring at Jamie. Jamie got really close to her and made little jumping motions. Eventually Miney got the message and vacated the bed. Jamie is extremely gentle, but she will stick up for herself when needed. And while Miney will not nap with her (yet), we often see Peaches and Jamie sharing the bed, snoozing away.

Besides loving to snuggle with one of us in the evenings, Jamie is also playful. When taking all three for a walk, she teases at the other two trying to get them to jump and frolic with her. We now have a black and white frenzy when we get home from work- three happy dogs glad to see us home. And Tom has to admit- having three is really not much more work than having two Bostons- but you get a lot more love back!

We look forward to many years with this threesome- camping all the summer weekends, sharing most of our travels, and always having them at home and in our lives.

---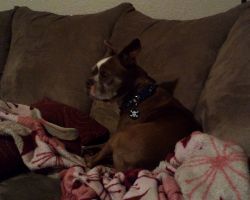 Simon is a 7 year old Boston. He came into rescue because the family he was given to could no longer care for him.

We welcomed Simon in our family on December 9, 2012. He was brought home to a waiting group of 5 grandchildren, ages 5 through 10. I couldn't have been happier with their reaction to him and his reaction to them. He became an instant love for everyone. Simon is very clever. He responds to commands as if he spoke English. He is well behaved and loves to play.

Jake our older Boston will be 13 in a few weeks. He is deaf and blind. It took him almost a month to feel relaxed and enjoy his new housemate. I don't think that Simon realizes that Jake is unable to see or hear him. He tries to engage Jake in play and it doesn't work. So, I am finding some other dog friends for Simon to play with. Simon is a wonderful companion to Jake in his old age by just being with him.

I am grateful to Vicki for allowing me the chance to get to know Simon before I took him home. Because of Jake's disabilities it was important that I let him spend sometime with Simon to make sure they go along.

You do a wonderful job, Vicki. All these Bostons will be waiting for you in heaven some day and they will shower you with kisses for all the love and care you have given so many of them.

We feel really blessed to have Simon in our home.

---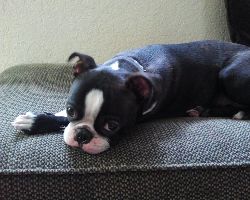 Woody is a 1 ½ year old male Boston. He came into rescue because his family could no longer care for him and keep him safe.

I have to say we could not have picked a better second Boston to add to our family. Woody is a true delight and has completely stolen our hearts and has me wrapped around his little paw. He is my shadow, follows me everywhere and even sits and watches me do the dishes.

Woody is a very calm Boston Terrier and loves everyone. He loves my four dog respectful granddaughter's age 3-6. Woody loves bird watching and seeing the squirrels chase each other up the trees. His bird watching got him the nickname, "Woody Bird". He sits in front of the slider and watches chirping away in excitement. He also chirps when he wants something.

Woody loves, loves to play with Arlo, his bigger, older, Boston brother. They run circles thought the kitchen and living room and into the dining room with Woody going under the table where Arlo doesn't fit. He loves tug of war, endlessly chews on nylabones, tennis balls and stuff less plushies. The boys have a field day!

One of the funny things Woody does, he'll come rolling into the living room like a bowling ball, looking for play or just being Woody. He likes wearing sweaters and enjoys having a bath. He does not like to get his feet wet outside and takes longer to do his business then any dog I have ever had.

If Woody has a fault at all, it is barking. He is learning this is not acceptable for play in the house and is doing very well. Outside is a different story.

Woody sleeps in his crate at night due to his horrendous snoring. He actually likes his crate and goes into it during the day for Woody time. He will also put himself to bed at night when he gets tired.

Woody is just a wonderful Boston Terrier and a delightful member of our family. We look forward to the Boston reunion this summer. The saying, Bostons are like potato chips, you can't just have one is so true.

Thank you, Vicki & Al

Chris, Gary, Arlo and Woody

---