Because of YOUR donatioons . . .
BTRWW has helped these rescued Bostons in 2019
We are dedicated to helping unwanted, neglected, and abandoned Boston Terriers with medical care expenses beyond routine care.
---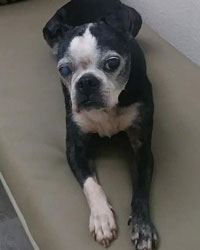 Miss Molly - December 2019 - is a 12 year old spayed female from Boston Terrier Rescue of Florida

This precious pup was pulled from a shelter in May 2019 after they asked for rescue help due to her poor condition. They believe that she is about 12 years old. She came into rescue with extremely poor sight and a melting ulcer in one eye, along with some recent scars on her face and tattered ears. She has allergies which we are treating with Cytopoint injections. She also has a heart murmur and is on medication to treat it. Since coming into rescue, she has become completely blind and continues to have issues with eye ulcers. Due to the discomfort caused by the current condition of her eyes, and their lack of functionality, the vet has recommended that both eyes be removed (enucleated). She had surgery on December 18, 2019.

Her Foster Mom said the following: Molly is super calm and laid back but when outside, she loves to run in circles when she feels safe to do so. She will kick up dirt, prance and stretch when praised and loves to cuddle. She loves to meet new people and go on car rides. "She is playful and super sweet, and never gives us a hard time with medications, eye drops, putting on her halo, and taking a bath. Molly has a crooked grin, tiny ears that are all beat up, and a scar on her face that makes her look like a bandit on the run but in reality, she is patient, soft, and dainty but is also a tough little angel who follows me everywhere. She patiently waits for me in the bathroom every day when I shower and goes everywhere with me". Molly loves vacations, is a seasoned traveler and has already been to New Smyrna Beach, Naples, and Denver for doggy getaways. Everyone who meets her just falls in love. Molly is a typical girl that loves clothes, shoes, and socks. She loves to get in her backpack and ride on Foster Daddy's back while strolling through Farmers Markets and parks. She is a great conversationalist and understands most everything said to her. Molly always knows what time it is and reminds us when it's treat time!


---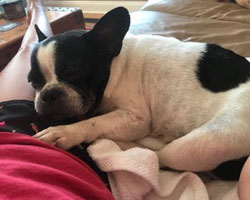 Pepper June - December 2019 - is a 3 year old Boston-French bulldong from Boston Terrier Rescue of East Tennessee

Pepper June came to us from a backyard breeder. She had hip deformities in both hips that required two surgeries of femoral head ostectomy. This was done so she could live a normal life without pain and be more adoptable. Both surgeries totaled around $1,400 which was a real bargain since it was done by our very experienced general veterinarian, Dr. Pat Hackett, Pellissippi Veterinary Hospital in Knoxville, TN.

The pictures are of Pepper when we first got her. She was about 4 lb. underweight.



---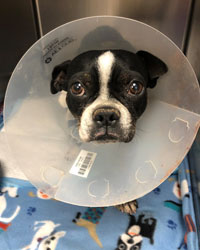 Pixie - October 2019 - is from Mikey's Chance Rescue of Tri-Cities, Washington

Pixie was brought into Horse Heaven Hills Emergency Vet on Friday October 4th 2019. Her owner wanted some "medication" to help her, when they were told that surgery was required and she would need to be spayed, they signed her over. Mikey's Chance Rescue was called to help.

She had a vaginal prolapse from over breeding. At age 2, she had already had 3 litters of puppies. She was weak, dirty, dehydrated and underweight. She was cleaned up, started on IV fluids and pain meds and was spayed. It was an additional 2 weeks before the prolapse inflammation reduced enough to correct. Pixie received excellent care and attention from the staff and doctors at Vista Vet - she was finally comfortable enough to be held and cuddled.

On October 23rd they introduced Pixie to her adopting family Marcye and Caitlin and their dogs Roxy and Emmett. Emmett is also a rescued Boston Terrier. Things went well and Pixie is adjusting to being an indoor family member.

Pixie was adopted by an amazing couple-they are actually long time clients of the Vet clinic that treats Pixie. They also have a male Boston (rescue) and a mixed breed female dog at home who is also a rescue. Pixie fit in so well right from the start.



---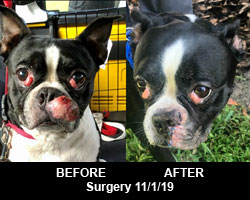 Action Jackson - November 2019 - is a 9 year old male from Boston Terrier Rescue of Florida

Jackson was surrendered to BTRFL by his owner in October, with a very large mass on his muzzle next to his nose. A volunteer brought him immediately to North Orange Animal Hospital.

Upon examination, they found that Jackson also had two lymph nodes that were swollen so they biopsied both nodes and the mass by his nose. All three biopsies indicate that the masses are Mast Cell Tumors, (and luckily were not Squamous Cell Carcinoma). Xrays confirmed that there are no other tumors.

They are confident that oral chemotherapy for approximately 1 month will shrink the tumors and make them much easier to remove. While on chemotherapy, Jackson will be fostered near the office so that he can be brought in for blood work to monitor how the chemo medication is affecting him.

Action Jackson's name may need to be changed to JACKPOT JACKSON because he has certainly hit the Jackpot! Jackson has been adopted by a veterinarian and a veterinarian technician. In addition to providing him with an amazing home, they can closely monitor his health and provide him with ongoing vet care after having the large Mast Cell Tumor and lymph nodes removed back in November 2019. Jackson now gets to enjoy life hanging out on a farm with horses, pygmy goats and his furbrother named Cowboy. Isn't life GRAND!!



---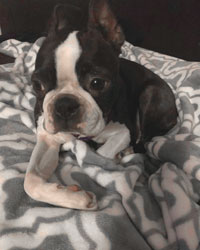 Lexa - November 2019 - is a 2 year old female from Northeast Boston Terrier Rescue

In November little Lexa was taken in by Northeast Boston Terrier Rescue. She was a retired breeding dog who had 1 litter of stillborn pups and was discarded. She was taken in knowing she had nare and soft palate issues but they had no idea how severe it was. Within 24 hours of receiving her, she fainted because she was not able to get enough air. She was forced to breathe thru her mouth but the soft palate makes that difficult. She also has difficulty eating due to the soft palate issues. Lexa was on a strict no activity regiment until her surgery. She has had her surgery and her foster mom says she is doing well and already breathing better. She needs to still stay calm yet while she heals but wants to go now that she can breathe better.



---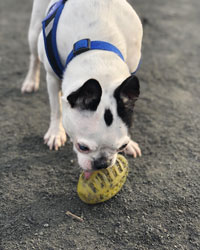 Gizmo - September 2019 - is from Boston Terrier Rescue of East Tennessee

Gizmo Gadget, 11 years old, and his brother, Perry Mason, 8 years old, came into rescue with Boston Terrier Rescue of East Tennessee about a year ago when their family was moving and could not take them. They are a bonded pair because Perry needs Gizmo for emotional support and they have kept them together and are trying to adopt them together.

Gizmo had a recent bout with an eye infection along with ear and skin infection with underlying allergies. He was treated, but a few days later, his eye ruptured and he ended up at the emergency animal clinic where he had to have his eye removed. A ruptured eye is extremely painful. He is a much happier boy now and he is home again with Perry and the other dogs at the foster home.

UPDATE: We are happy to say that Gizmo Gadget and Perry, the bonded pair, have been adopted.



---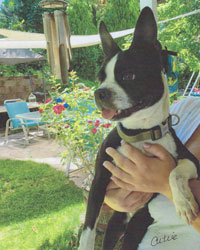 Cutie - October 2019 - is a 2 year old female from Milagro Boston Terrier Rescue, New Mexico

Cutie is a Boston who was dumped by her owner and came to Milagro Boston Terrier Rescue. She had a malignant tumor on her leg which was biopsied and removed. She is feeling much better. BTRWW were able to provide some funds to help in the medical costs of this little Cutie.



---

Boston Terrier Rescue of Western Washington solely assists other 501C3 rescues and organizations that take in a dog needing medical care. The events that we hold in our fundraising group help these Bostons in need.

Thank you for "Helping Us Help Others" by donating to Boston Terrier Rescue of Western Washington.