Because of YOUR donatioons . . .
BTRWW has helped rescue these Bostons in 2021
We are dedicated to helping unwanted, neglected, and abandoned Boston Terriers with medical care expenses beyond routine care.
---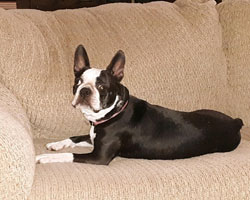 Zoey Love - January 2022 - 8 year old female from Boston Terrier Rescue of Florida

Zoey Love came into rescue at the age of 8 needing some dental work to help her be free from pain. The poor girl needed several teeth extracted that were cracked or loose. Having this work done ensures that she will have comfort but can also help prevent heart or other dental-related illnesses from occurring.

Boston Terrier Rescue of Western Washington wishes Zoey Love a speedy recovery and off to her loving fur ever home.


---

Boston Terrier Rescue of Western Washington solely assists other 501C3 rescues and organizations that take in a dog needing medical care. The events that we hold in our fundraising group help these Bostons in need.

Thank you for "Helping Us Help Others" by donating to Boston Terrier Rescue of Western Washington.